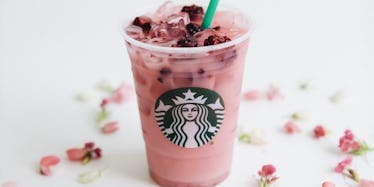 I Tried Starbucks' New Violet Drink, And It's A Sweet Treat That Gives Back
Starbucks
What does Starbucks' new Violet Drink taste like? I braved the heat wave and endured a long line to find out.
The coffee company's new offering was definitely a refreshing treat after my walk in the 90-degree weather.
The concoction is a mix of Very Berry Hibiscus Starbucks Refreshers with a splash of coconut milk and crumbled blackberries that overpower the taste — but in a good way. You get something sweet and a bit of fruit, so obviously this is order is a win-win.
On the plus side, it's also super cute to stare at. Its consistency resembles that of a smoothie, and it could be a bit strong for some, but it will definitely hit the spot when you're in need of a 3 p.m. pick-me-up.
In the event you need a bit more convincing to change up your usual order, the Violet Drink is part of the Cups of Kindness collection, which aims to give back.
In partnership with our girl Lady Gaga, Starbucks presents us with this line of drinks, which includes the new Violet Drink and Ombré Pink Drink, coupled with fan favorites Matcha Lemonade and Pink Drink.
For each drink ordered, 25 cents goes to Lady Gaga's Born This Way Foundation and the Channel Kindness project, which is a "platform [that] gives young people the resources and opportunities they need to help change the world — one act of kindness at a time." The collaboration runs through June 19.
If we're getting a lovely drink and helping a good cause, there's no reason not to make a switch from the usual mocha frapp every once in a while, right?
Was it a coincidence "Gypsy" came on the speakers as I set up shop at a table? I think not.
Enjoy your Violet Drink, frapp fans and coffee connoisseurs — we'll see you in line.