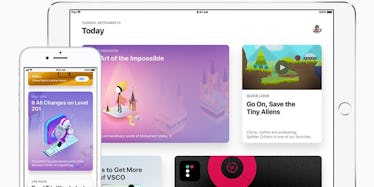 Here's How To Free Space On Your iPhone For iOS 11 Update, Because You'll Want To
Apple
On Tuesday, Sept. 19, Apple finally released iOS 11. Chock-full of updates and new features, the new OS is smarter and better than ever. It's also larger than ever and requires at least 2.1 GB of storage to even download. And if you're anything like me, constantly deleting an app here or there to stop those annoying "Storage Is Almost Full" messages, you're going to want to read up on how to free space on your iPhone before downloading iOS 11.
Before we go go through some easy ways to make room for the update, you should first be aware of the newness you'll be getting. Apple describes iOS 11 like this when you go to download it:
iOS 11 brings hundreds of new features to iPhone and iPad including an all new App Store, a more proactive and intelligent Siri, improvements to Camera and Photos, and augmented reality technologies to enable immersive experiences.
Sounds awesome, right? The only bummer is that if you don't have enough storage available for it to actually install, you'll see the following message instead of a glossy download button:
The update cannot be installed because it requires at least 2.1 GB of available storage during installation.
Cue this very #relevant Michael Scott GIF from The Office.
Alas, you can quickly create some space, so let's jump into it.
1. Transfer all your photos and videos off your phone.
It doesn't matter if you transfer them directly to your computer or onto an external hardrive — now's the time to take those beloved storage suckers off your phone.
2. Delete your "Recently Deleted" photos and videos.
ICYMI, Apple actually stores your deleted photos and videos in a folder called "Recently Deleted", which you can find in the Photos app. You'll want to select everything in that folder and hit "Delete All" to ensure everything you thought you deleted actually gets, well, deleted.
3. Delete any unwanted texts in the Messages app.
Do you really need to save the long AF group convo between you and your friends from 2015? Probably not. You'd be surprised by how much storage your messages take up, especially if you share a lot of photos and GIFs. Delete as many threads as possible and watch your "Available Space" numbers in Settings rise.
4. Clear your cache in Safari.
All the data your phone keeps about your browsing history and habits can g-o. To get rid of it, go to Safari in Settings and hit "Clear History and Website Data." So easy! While your history and website data is what allows advertisers to show you targeted ads, iOS 11 debuts an ad blocker feature called "Intelligent Tracking Prevention" that will stop that data from being used to sell you stuff. Needless to say, the advertising industry isn't pleased. In an open letter to the tech company, industry leaders said, among other things,
Apple's unilateral and heavy-handed approach is bad for consumer choice and bad for the ad-supported online content and services consumers love. Blocking cookies in this manner will drive a wedge between brands and their customers, and it will make advertising more generic and less timely and useful.
5. Remove any apps you don't use regularly.
It can be difficult to part ways with an app you love. However, if you notice that you rarely use any of the apps currently on your home screen, do yourself a favor and delete them. (You can always re-download them later if you upgrade to more memory.) Go to settings to see exactly how much space your apps take up.
Those were just five little things you can do right now for more iPhone storage. Good luck downloading iOS 11! And just a heads up: The oldest iPhone model iOS 11 supports is the 5S.
Check out the entire Gen Why series and other videos on Facebook and the Bustle app across Apple TV, Roku, and Amazon Fire TV.