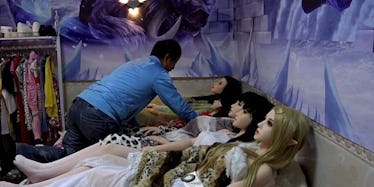 Guy Lives With 7 Life-Size Sex Dolls And Wants Son To 'Satisfy Needs' With Them
Pear
A man in China is proving that dealing with loneliness is unnecessary when there are sex dolls to be bought.
58-year-old Li Chen is the proud owner of seven life-size female dolls that he cares for as if they were his own family.
While the dolls are obviously intended for sex, Chen insists he tends to their needs and, instead, treats them like daughters.
According to MailOnline, he purchases new outfits for them, brings them on vacations, poses them for various photo shoots and even shoots music videos with them.
Chen has apparently shelled out over 100,000 yuan (almost $15,000) just on clothing for the dolls since his obsession began back in 2010. Each doll also costs him about 10,000 yuan.
Move some decimals, add or subtract a few digits and THAT'S A LOT OF MONEY SPENT. I can barely afford lunch during the week.
Despite being referred to as a "pervert" by others around China, Chen takes pride in his hobby and hopes to start a fashion business that produces different clothes for his collection of dolls.
"These dolls are beautiful," Chen told MailOnline. "They are the combinations of the best features taken from various women. I'm simply appreciating their beauty."
On the other hand, Chen pushes his 18-year-old son Yang Yang to appreciate a little bit more than just the dolls' beauty. (Yes, I'm talking about their silicone vaginas.)
After gifting Yang Yang a doll for his birthday, Chen encouraged his son to use it to "satisfy his biological needs."
"I want him to use the doll instead of catching random diseases from outside by accident," Chen said about his son. "When I gave him sex education, I taught him the importance of staying safe when it comes to sex."
Chen has been caring for his son by himself since his divorce back in 2004.
Then, in 2010, he visited a shop with his girlfriend at the time, and the two spotted some silicone dolls but couldn't afford them.
Following their breakup in 2014, Chen finally bought his first doll to deal with his son's absence while at school, and his collection has continued growing ever since.
Hey, man, to each his own.
I can't say I was ever an avid collector of human-sized lady figures, but I did scour the Earth to find every last Yu-Gi-Oh! card there ever was.
A hobby is a hobby, I guess.
Citations: Meet the man who lives with seven sex dolls: Divorcee, 58, grooms, dresses and travels with silicone figures (MailOnline), Father and son and seven silicone dolls happy life (Pear Video)