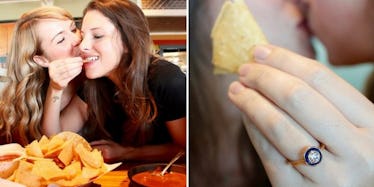 Girls Who Took Their Engagement Pictures At Chili's Are Officially Couple Goals
Desiree Eehevarria
With a food-filled series of engagement photos at Chili's, Texas-based Krista Doyle and her fiancée, Kelly Boyles, made couples everywhere go, "Why didn't we think of that?!" The duo and their photographer, Desiree Eehevarria, managed to capture their love for each other (and Chili's) all at once. Even the ring shot features a handful of tortilla chips, which is so, so pure.
Krista, a 30-year-old author and content writer at Aceable who's originally from Louisiana, tells Elite Daily that they made an impromptu stop at Chili's while driving from a few other picture locations.
"Kelly and I both love food," she tells us, "and I have just always been a huge Chili's fan my entire life." And so, a chips and queso engagement shoot was born. "I just kind of said 'We should go take a few pictures at Chili's because it'd be fun and also I'm craving queso.'"
On Tuesday, Aug. 1, Krista shared four of the final Chili's photos on Twitter, making sure to tag the restaurant. She tweeted,
I took some of my engagement pictures at @Chilis. You're welcome.
No, seriously, thank you.
Krista and Kelly — who have been together "for about a year" and run a food blog on Instagram called @gourmetgarage — have gifted us with such wonderful and beautiful #EngagementInspo.
I can't imagine looking anything but incredibly happy in the presence of my SO and Chili's downright delicious food.
Naturally, people were obsessed.
"This is the most beautiful thing I've ever seen."
So cute, but now we're hungry.
Chili's slid into the thread, offering to send a gift.
But really, they better cater the wedding.
Just "THE CUTEST."
In all seriousness, congrats to Krista and Kelly! May your marriage be filled with plenty more in-love photos at Chili's. Also, it's adorable that your last names rhyme.