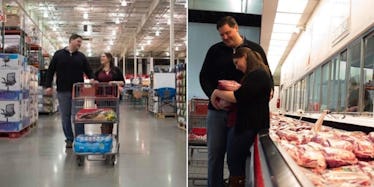 This Couple Took The Most Epic Engagement Photos Ever At Costco
There are a lot of reasons to love Costco.
From the discounts to the free samples of food, it's not hard to see why so many people like to shop at this wonderful warehouse-style store.
However, Karinne Tarshish and Dan Klamet are one quirky couple who take their love for buying in bulk to a whole new level.
No really, I'm serious.
These two are so fond of Costco they actually decided their beloved big box store would be the perfect spot to take their engagement photos.
So the Minnesota couple hired photographer Emmerlee Sherman and made their way over to a Costco in Saint Louis Park to take some romantic photos that feature the cute couple shopping while scoring some big savings, of course!
Throughout the day, Sherman captured all sorts of special moments as the bride-to-be walked down the aisle... of the battery section, showed off her rock alongside some discount desserts and stared romantically into her future hubby's eyes as they ate hot dogs on a plastic picnic table.
Yeah, I know. These two are so damn romantic, I just can't even take it.
Apparently, their Costco photo shoot was a success, and the couple was pretty happy with how all of their humorous engagement pictures came out.
Plus, who knows, maybe they'll be able to find a good deal on some frozen apps and paper plates from this store before they walk down the aisle for real in October.
Check out the pictures below for a closer look at their comical Costco engagement pictures.
Meet Karinne Tarshish and Dan Klamet.
If there's one thing this newly engaged couple loves just as much as each other, it's Costco. (Yes, Costco as in the store that sells all of your favorite sh*t in bulk.)
So when it came time to pick a place for their engagement shoot, these two decided to practice walking down the aisle...at Costco, of course!
They grabbed photographer Emmerlee Sherman and hit up a Costco store in Saint Louis Park, Minnesota to capture all sorts of endearing moments, like, you know, stocking up on some discount batteries...
...and buying in bulk as they lovingly stared into each other's eyes.
They made some time to meander over to the food section, where they scoped out the free samples and practiced their future parenting skills with a precious pork shoulder.
Plus, Sherman even managed to snap the perfect photo for their save the dates when Dan bent down to tie his shoe during their romantic day of warehouse shopping.
Now you're probably wondering, why Costco??? Tarshish told BuzzFeed, "We didn't want to do the standard photos...I thought it might be funnier to romanticize us doing our daily normal things."
She was certainly right, because all of their quirky engagement photos are funny as hell. She said, "They are really satirical, so I think that in a way it is a good representation of our sense of humor."
The Costco couple ended the day by wheeling their shopping cart off into the sunset, and they shopped happily ever after. The end.
Citations: This Couple Loves Costco So Much They Took Their Engagement Photos There (BuzzFeed)