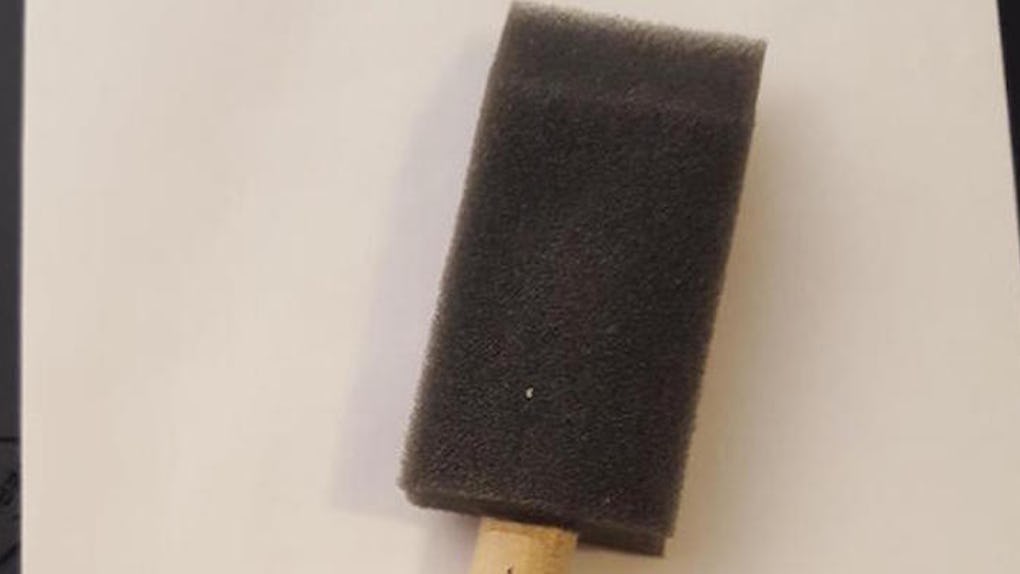 Imgur
Dad Discovers Foam Paintbrush Hack For Daughter
It's no secret that beauty bloggers love finding drugstore dupes for expensive beauty products.
Lately, we've seen lots of beauty queens showing off their latest makeup hacks on social media.
If your mind was seriously blown when you found out that laxatives could be used as primer or that men's shaving cream doubled as makeup remover, you might want to brace yourself.
One clueless dad accidentally discovered what might just be the greatest makeup hack of all time.
That's right.
Gina, a woman who goes by the username _gina_marie on Reddit, recently shared a photo of a makeup sponge that her dad brought home for her.
Now I know what you're probably thinking — and, no, this father-of-the-year did not stroll into a Sephora and buy his daughter a brand new beauty blender sponge.
Instead, he hit up the local hardware store and purchased a painting tool for her makeup.
That's right. This makeup-minded dad stumbled upon a sponge paintbrush and figured that it could double as the perfect tool for applying foundation.
While apply makeup with some home improvement tools may seem a bit strange, it turns out that this awesome dad was totally right!
Gina posted a picture of the sponge along with the caption,
He said he went to Menards and was getting stuff to paint a helmet and he saw the sponges on a stick and thought, 'well she does put on makeup with a sponge, so why not get her one on a stick so it'll be easier to control?'.
In the post, Gina revealed that her dad as always been a big fan of makeup because of her beauty guru grandma.
Gina give some backstory on her dad's affinity for makeup, writing,
He really loves that I wear makeup. His mother modeled for Estée Lauder and I think it makes him think of his mother when I talk about new foundations I'm trying or new lip colors. He says I look like her too. It's something nice we can talk and bond over.
Sure, buying a makeup brush from a hardware store might seem like a classic dad move.
But if you find a sponge paintbrush with tiny pores, you can probably achieve the same flawless complexion you get from using a high-quality makeup sponge.
Not to mention, this bad boy only costs about $2 unlike your beloved, but expensive beauty blender sponge.
Seriously, who knew men could be so good at finding money-saving beauty hacks?
Citations: This Dad's Adorable Makeup Sponge Fail Might Actually Be A Genius Hack (Seventeen)