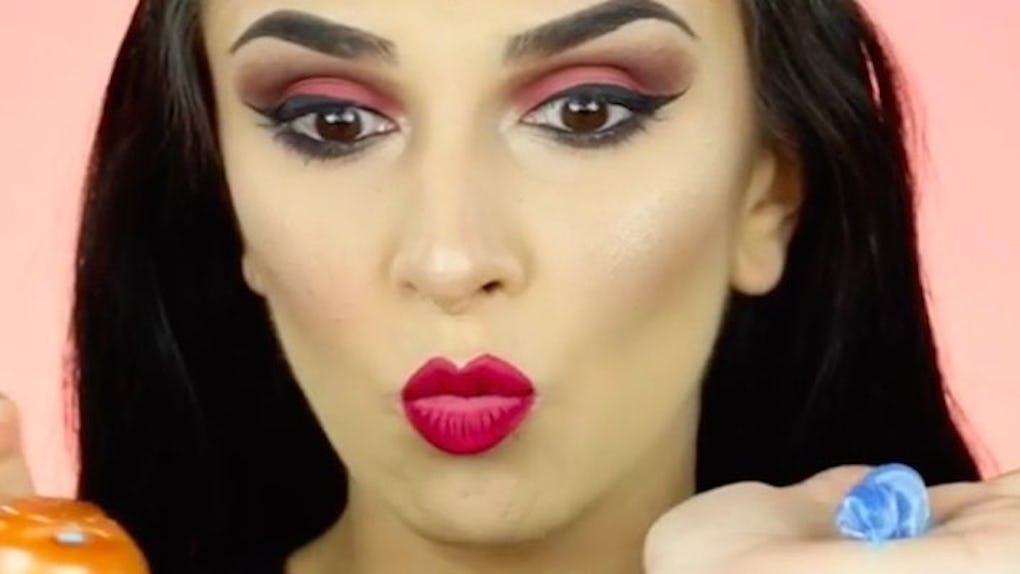 Instagram
Shaving Cream Is Perfect Emergency Makeup Remover
Not too long ago, we showed you a beauty blogger who slathered lube, laxatives and Vagisil on her face in order to find the perfect drug store dupe for makeup primer.
If there's one thing we can learn from this bold beauty guru, it's your bathroom probably has all sorts of things that can double as unexpected substitutes for your favorite beauty products.
When you find yourself in a dire situation, knowing the items you can use as alternative beauty products can seriously save your ass.
This is exactly why another Insta-famous beauty blogger, Maria Yeager, recently set out to find an unexpected swap for makeup remover.
If you've ever slept over at your boyfriend's place and forgotten to bring your makeup remover, you know sleeping in full makeup can seriously wreck havoc on your complexion.
But did you know your boyfriend probably has the perfect swap for makeup remover already sitting in his medicine cabinet?
That's right: Yeager claims shaving gel can actually do the trick if you can't find any makeup wipes or face cleansers.
Gillete Fusion Hydragel Moisturizing Shave Gel, $4.50, Jet 
She recently posted a video on Instagram that shows her using Gillete Fusion Hydragel Moisturizing Shave Gel to remove a full face of makeup, along with the caption,
So I decided to give it a try to the Shaving Gel to take off my makeup and guess what worked out pretty good . What do you guys think about this ??
Unfortunately, most of her followers weren't down to try this trick. They left comments on the photo suggesting coconut oil or baby oil would be a better makeup remover alternative.
Cosmopolitan sought the advice of an expert, and consulted Dendy Engelman, MD – a New York City cosmetic dermatologist – on the matter. She agreed that shaving cream is safe for facial skin, but warned that using this product as a makeup remover could cause serious eye irritation.
So, if desperate times call for desperate measures, you can try this trick at your own risk. But just make sure you keep this product away from your peepers.
Otherwise, you'll be waking up with red, burning eyes, rather than eyeliner-induced raccoon ones.
Citations: This Beauty Blogger Used Something Very Odd to Remove Her Makeup (Cosmopolitan)