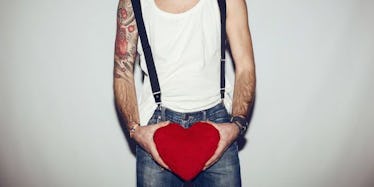 Firefighters Blame 'Fifty Shades' For Absurd Number Of Men Stuck In Penis Rings
We've all heard stories about people getting rings stuck on their fingers.
In fact, just a few years ago, I decided to jam a ring that was clearly too small on my finger and then began panicking when I couldn't get the damn thing off.
After several unsuccessful attempts to remove the gold band with butter, Crisco and olive oil, my mom finally had to call the fire department and ask them to cut the ring off me.
I was mortified when the fire truck pulled up in front of my house because as you can probably imagine, the whole ordeal made me feel like a complete idiot.
But you know what's even more embarrassing than summoning a team of emergency responders to rescue your finger from a suffocating ring?
Having a bunch of firefighters show up at your house to remove a ring from your manhood, that's what.
The London Fire Brigade just revealed the number of penis ring removals are on the rise, and the reason for this growing problem might seriously arouse your interest.
Apparently, firefighters are blaming the new "Fifty Shades" movie for the absurd amount of men who are getting their dicks stuck in penis rings.
Damn you, Christian Grey.
Firefighters have responded to nine penis ring removal calls since April of last year, which is the same number of incidents from the previous two years combined.
Penis rings aren't the only objects causing problems in the bedroom, either.
The London Fire Brigade reports the number of calls for handcuff removals have nearly doubled over the past year.
On the bright side, it appears fire departments are getting less calls for people stuck inside of everyday household items.
But if you ask me, it's probably because people are too busy acting out their "Fifty Shades" inspired fantasies to do dumb things like trying to fit their whole body inside of a washing machine.
The "Fifty Shades" incidents have become such a problem the London Fire Brigade started a "Fifty Shades of Red" campaign that asked people to think before doing something that will get them (or their dicks) in jam.
The Brigade is even using examples of embarrassing incidents, like a time when firefighters had to use pedal cutters to surgically remove a metal ring from a man's penis, to encourage people to tone down their sexcapades.
Dave Brown, London Fire Brigade's Director of Operations, said,
We're pleased that fewer people are getting themselves stuck in difficult situations and reducing call outs, however, it seems the Fifty Shades of Grey effect is still leading to some call embarrassing call outs. I'd like to remind everyone that 999 is an emergency number and should only be used as such. If there's a genuine emergency, fire crews will of course attend and will be on the scene to help within minutes.
Brown has one piece of advice for all of the sexual deviants out there: "If the ring doesn't fit, don't force it on."
Unless, of course, you're into humiliating yourself in front of a bunch of firefighters.
Citations: Fewer people getting stuck but 'Fifty Shades' incidents increase, warns the Brigade (London Fire)