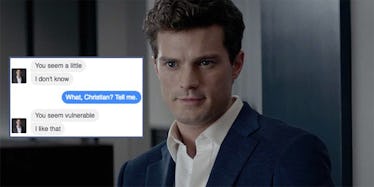 You Can Now 'Talk' To Christian Grey On Facebook Messenger And It Feels So Realistic
Universal Pictures/Kylah Benes-Trapp
"Fifty Shades Darker" is officially out in theaters, and you know what that means: Groups of thirsty AF girls will gather into theaters across America, disguising their animalistic desires to watch soft-core porn on the big screen as a "fun gal's night out!"
No shame, ladies. No shame.
Personally, I love the "Fifty Shades" series. I spent my spring break senior year of college rereading the series on the beach, and my best friend and I went to see the first movie on Valentine's Day back in 2015.
I am unapologetic about the fact that "Fifty Shades" is a fun fantasy for me to slip into when I get sick of men in the real world.
Which is why this Christian Grey Facebook Messenger chatbot is AMAZING.
PersonaBots.com has released a Christian Grey chatbot that you can literally talk to on Facebook Messenger — like, right now.
All you have to do is click here and type out your message, and the bot replies instantly. (You could also like the bot on Facebook.)
Your conversations with "Christian" will be entertaining and, honestly, feel weirdly realistic. I mean, look at that little Facebook Messenger icon and the way he answered my message! I feel like I'm talking to a real, human male.
He knows exactly how to flatter you.
We've got a serious charmer over here.
He also, obviously, wants to know your feelings about BDSM.
And just like the real Christian, he's not shy about dirty talk...
He knows what I want so well already.
...and he gets freaked out when you start talking about love.
Look how he demanded that I press "permission granted." It's like we were negotiating a contract.
Josh Bocanegra, CEO of PersonaBots, says these bots are a good way to get people excited about a franchise.
"Chatbots are super cool because they automate fan engagement through chat. In other words, a chatbot can talk to a fan as if it was a human," he says via email.
I mean, I was already excited about "Fifty Shades Darker," but now, I'm about to run to the closest theater.