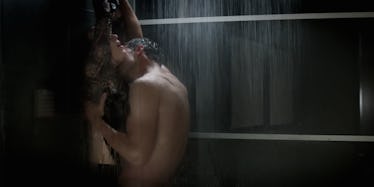 New Clip Proves 'Fifty Shades Darker' Will Be Much More Intense Than The First
YouTube
Oh, sweeeeeeet lawd.
"Fifty Shades Darker" just released some new footage and — full warning — you're going to need a long, cold shower after you're done watching it.
All this week, movie theater employees across the country are busy lining the floors of their auditoriums with plastic tarp in anticipation of "Fifty Shades of Grey" sequel releasing February 10.
Yup, Christian and Anastasia are back again for another few hours of exposed-red-room BDSM, full-frontal angry foookin and we cannot wait.
The studio behind the movie put out unreleased clips from "50 Shades Darker," and they're about as hot as something can legally be without having its viewers sign a waiver before watching.
For your own sake, please watch this in a soundproof glass jar far away from where your co-workers can hear you.
This movie is going to be absolutely insane. Those clips they released today aren't even that bad compared to some of the other "Fifty Shades Darker" content they've put out.
The trailer from a few weeks back makes today's clip release look like a TED Talk on fine dining etiquette.
SHE GOT FINGER KABOOMED IN A FULL ELEVATOR! Finger kaboomed! Full elevator!
That's the single bravest move of all time. There were like five other people there! I don't even poop if I know my roommates are in the apartment building, let alone go freelance kabooming.
Hot take: Seal Team 6 isn't as brave as Christian Grey. Sure, they took down Osama and are comprised of the world's most elite soldiers. They never finger kaboomed in an elevator, though.
There should be a presidential medal of freedom for finger kabooming in an elevator car.
Christian Grey is a folk hero as far as I'm concerned, and he definitely deserves a statue in a town square somewhere.
MAKE IT HAPPEN, AMERICA! MAKE IT HAPPEN!
Citations: Anastasia Steele and Mrs Robinson Face Off in New Fifty Shades Darker Clip (Cosmopolitan)