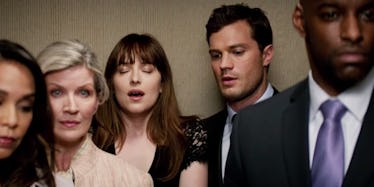 This New 'Fifty Shades Darker' Trailer Is Definitely Not Safe For Work
YouTube
If you've been counting down the days before "Fifty Shades Darker" hits theaters, a newly released trailer for the James Foley-directed film should hold you over until Valentine's Day weekend.
In the new clip, we're introduced to Christian Grey (Jamie Dornan) and Anastasia Steele (Dakota Johnson) who are both enjoying each other's company during a night out on the town.
As Grey and Steele seemingly enjoy their date night, Grey silently instructs Steele to calmly take off her underwear underneath the table in the middle of the restaurant.
Now, I don't about you, but that seems like a pretty impossible thing for anyone to do in the real world. And I'm not just referring to Steele taking off her undies, either.
I mean, imagine asking your girlfriend to take off her panties in the middle of Mercer Kitchen.
Who knows what her response would be? But I can guarantee you she wouldn't have obliged as swiftly as Anastasia does in this trailer!
Shortly after Christian Grey gets Anastasia Steele to take off her underwear, he asks for the check just before paying the bill and exiting the restaurant with Steele.
They both enter a crowded elevator and the sexual tension is TOO REAL.
As the elevator fills up with people, Grey comes up with a master plan to pretend to tie his shoe. It is at that moment he begins sliding his hand up Steele's leg as he raises back up.
With Grey's sex-obsessed hand underneath her dress, Steele's facial expression exposes the immense pleasure she's feeling take over her body.
Taylor Swift and Zayn Malik's song "I Don't Wanna Live Forever" then plays as the sexual clip ends. FIN.
If you're lusting for more, you'll just have to wait until February 10. Sorry, sex freaks!
Check out the steamy clip above.
Citations: Fifty Shades Darker's NSFW New Teaser Is Its Raciest Yet — Watch! (Us Weekly)