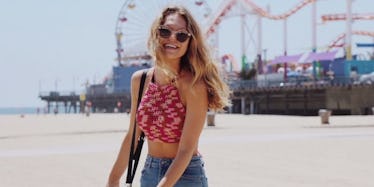 Former Insta Model Essena O'Neill Says This One Thing Gets You Followers (Video)
Essena O'Neill has a lot to say about the inner workings of social media.
In a new video posted to Vimeo, O'Neill describes the correlation between social media stardom and sexual objectification and argues the hypersexualization of teens on social media can be massively harmful to their self-esteem and feelings of self-worth.
O'Neill, of course, knows this better than anyone: Just last month, the teen star boldly deleted her social media accounts in a bid to highlight how fake and emotionally damaging all the attention is.
In the video, she says,
Your sex appeal, especially for the age demographic I was in in these images, gets you attention. It gets you a career on social media if you exploit yourself like I did… I literally sold my personality and life online, like that's literally what my career was... I can't tell you how freeing it is to be out of it, like, to wake up each morning and not look twice in the mirror, to just wear what I want to wear, not taking a photo, not posting a Snapchat, not looking at myself and thinking, 'Is this OK today?'
O'Neill's analysis provides some serious food for thought for all the selfie junkies out there.
Check out all eight minutes of the enlightening video below.
Citations: Essena O'Neill: Sex Appeal Gets You Followers on Social Media (Cosmopolitan)