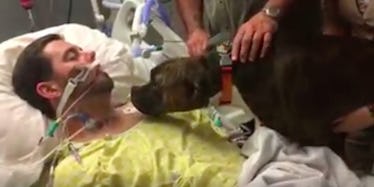 Devastating Video Shows Moment Dog Says Goodbye To Dying Owner In Hospital
Facebook
Dogs have always been my all-time favorite animal.
Aside from being cute and cuddly, these magnificent creatures might just be the most caring and loyal animals that ever existed.
Remember when we showed you that heartbreaking video of a dog's reaction when the family who abandoned her showed up at the shelter to adopt another dog right in front of her?
Well, if that cruel clip made you sob uncontrollably, you might want to grab a box of tissues.
We just came across a video that shows the devastating moment a dog has to say goodbye to her dying owner, and this sad scene will seriously break your heart.
The video features the final goodbye between a dog named Mollie and her human BFF, 33-year-old Ryan Jessen.
Apparently, Jessen thought he was experiencing a severe migraine. He was taken to the hospital where doctor's discovered his pain wasn't a migraine — it was a fatal ventricular brain hemorrhage.
During his final moments, all of Jessen's loved ones tearfully gathered around his hospital bed to say their last goodbyes, including his beloved four-legged friend, Mollie.
Jessen's sister, Michelle, captured the last heart-wrenching exchange between Jessen and Mollie, and seeing this sweet, loyal dog say goodbye to the human she loves most is extremely sad, to say the least.
Michelle then posted the tragic clip on Facebook, along with the caption,
The hospital did the sweetest thing for us and allowed us to bring my brother's dog in to 'say goodbye' so she'd know why her human never came home. If you knew my brother, he really loved his sweet dog. So many people have asked — He thought he had a migraine, but it was a ventricular brain hemorrhage. They think it was brought on by high blood pressure, and there's speculation that his frequent consumption of energy drinks may have contributed. THANK YOU to everybody for the outpouring of support, but I won't be responding anymore. We are sincerely touched and humbled by others' stories, their sharing in our sadness and the kindness of so many people. Don't worry about the dog! We're keeping her!!! She's part of the family.
But that's not all. Michelle revealed that her brother's unfortunate death might help another person.
Apparently, Jessen was an organ donor and his heart will be given to a a 17-year-old boy in California who desperately needed a heart transplant.
In another Facebook post, Michelle wrote,
As sad as it is to lose Ryan, we know his heart is going to bring so much joy to the family of the recipient. I wish Ryan could know what a difference his heart will make for that young man.
While Jessen may be gone, his memory will live on in the hearts of his loved ones and his faithful dog, Mollie.
Citations: Heartbreaking Moment Dog Gets To 'Say Goodbye' To Dying Owner In Hospital (The Lad Bible)