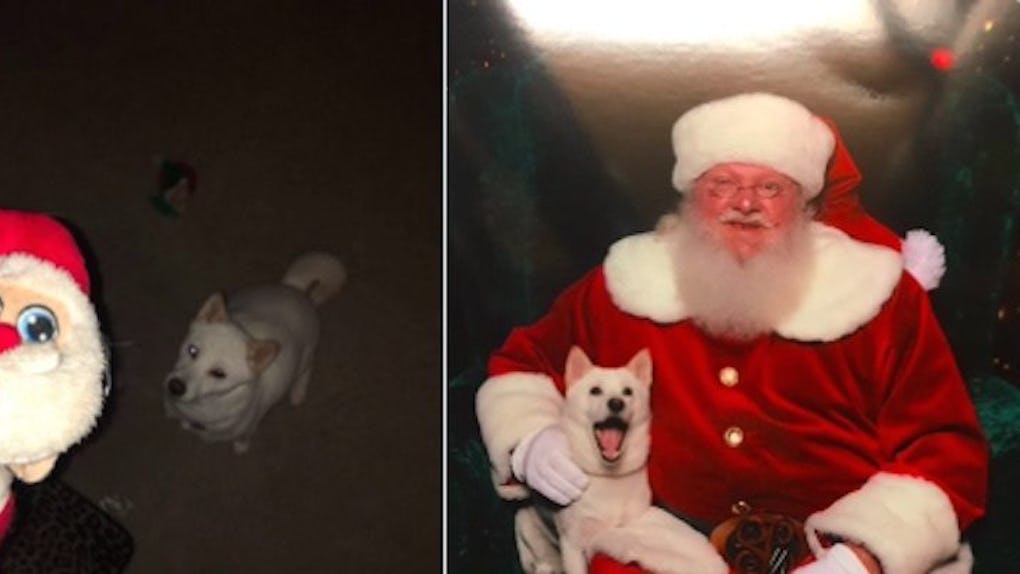 Twitter
Santa-Loving Dog Gets Photo Taken With Saint Nick
Any dog owner will tell you there's no feeling in the world that can compare to the sheer joy of seeing your pup's tail waggin uncontrollably.
Remember when we showed you that guy who surprised his furry BFF by dressing up as his dog's favorite toy, Gumby?
Well, if seeing that insanely happy puppy made you cry tears of joy, you might want to grab a box of tissues because things are about to get even more precious up in here.
Allow me to introduce you to Kya.
Kya is an adorable Shiba from Orlando, Florida, who loves her plush Santa dog toy.
Apparently, Kya has been a pretty good puppy this year so her owner, John Montaldo, decided to make all of her Christmas dreams come true by giving her an early present.
No, it wasn't a new version of her beloved, chewed up Santa toy.
Instead, Montaldo took his four-legged friend to meet this jolly Christmas character IRL.
That's right. Montaldo took Kya to see Santa and as you can imagine, this dog looked like the happiest canine on Earth as she sat on Santa's lap and posed for a photo.
No really, this dog is basically all of us meeting Santa Claus for the first time as kids.
On Wednesday, Montaldo decided to share this magical moment with the world by posting the photo on Twitter.
Since then, people have been losing their minds over this sweet holiday snapshot.
A lot of people are saying that this merry mutt is the greatest gift anyone could ever ask for.
I mean seriously, just look at sheer delight on this dog's face.
This dog is so damn happy, it looks like she might just pee herself from the sheer excitement of seeing this mall Santa for the first time.
Kya photo has promoted some people to share cute photos of their own dogs posing alongside the most infamous resident of the North Pole.
While other's have been making hilarious remarks about the appearance of this particular Santa Claus.
Montaldo revealed that Kya was a bit star-shocked when she finally came face-to-face with the life-sized version of jolly old St. Nick.
In fact, Montaldo told The Huffington Post,
When she first saw him she was really excited, and when we put her next to him she was calm and looking at him like she was amazed.
Seriously, if this Christmas-loving canine doesn't put you in the holiday spirit, you definitely have the heart of a Grinch.
Citations: Dog in love with her Santa toy finally got to meet the real thing (Mashable)