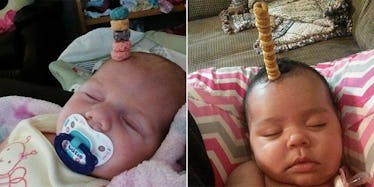 Dads Are Hilariously Competing By Trying To Stack Cheerios On Their Babies
Facebook/LifeOfDad
If there's anything that would serve as a proper tribute to dads everywhere — particularly with Father's Day on the horizon — it would be something that epitomizes all the stupid things they do when Mom is away.
The Cheerio Challenge fits the bill perfectly.
The challenge is being popularized by the Facebook page Life of Dad, which has been sharing photos that feature towers of cheerios on little babies faces.
According to the Life of Dad's official website, the game was born when the site's very own Patrick Quinn was sitting around watching a game with his sleeping baby. He piled five cheerios on the baby's nose and voila: an internet sensation waiting to go viral.
Now, photos of dads taking the challenge are starting to spring up in different places online, even when there aren't cheerios readily available.
Shea Girl does the #CheerioChallenge (I didnt have any Cheerios at home so we used Saltines)https://t.co/GVVlvcQW4U — KFC (@KFCBarstool) June 17, 2016
Crackers are nothing, though. This dad just went out of his way to be outlandish.
Others are sticking to doing it the conventional way, though.
Happy Father's Day!