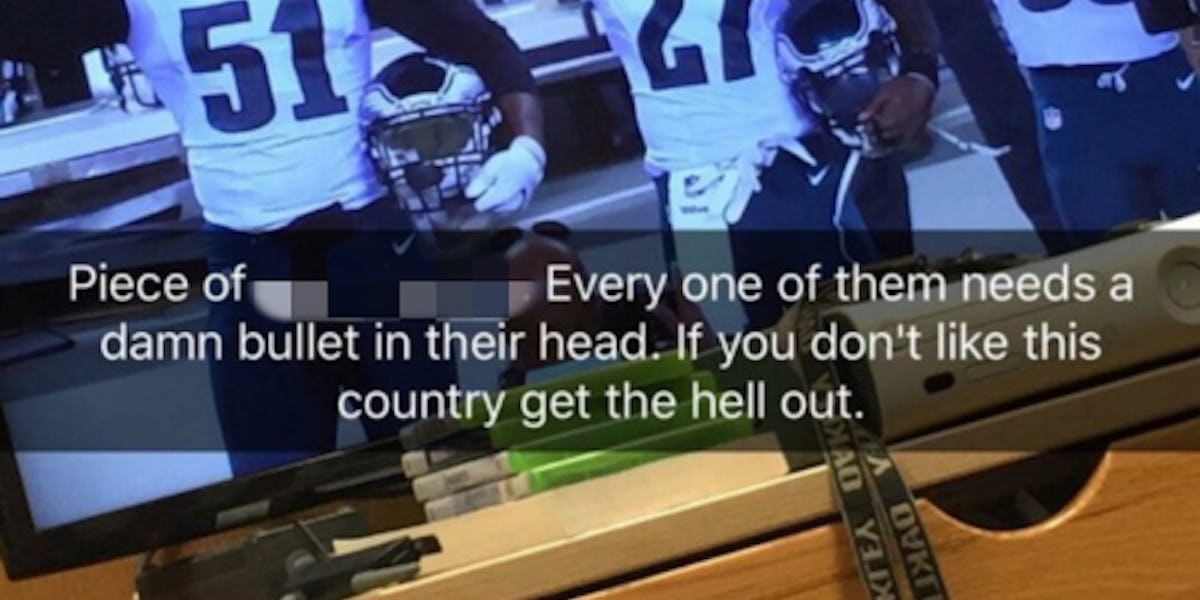 College Freshman Expelled After Racist Snapchat About Football Goes Viral
Snapchat
This is what we like to see: zero tolerance and swift action.
A freshman student at Belmont University in Nashville, Tennessee, has been expelled over a Snapchat photo of black Philadelphia Eagles players with the overlaying text,
Piece of shit n******. Every one of them needs a damn bullet in their head. If you don't like this country get the hell out.
It went viral on Facebook and Twitter early on Tuesday. Action was taken later that day.
A spokesperson said at the time,
This morning, we were made aware of a racist social media post by a freshman student at Belmont. We reject comments rooted in racism or bigotry. This is not free speech -- this is hate speech. The university is investigating and will take immediate action. As a Christian institution, it is our goal to build a diverse and inclusive community where all members feel accepted, safe and valued.
It only took a matter of hours to find out who posted the Snapchat and punish them.
The spokesperson published this update on Twitter,
After investigating a racist social media post that surfaced earlier today, we can report that the person involved is no longer a student at Belmont. The university rejects comments rooted in racism or bigotry.
There is increasing racial tension on college campuses as headlines surrounding police shootings and the Black Lives Matter movement rumble on.
Police footage recently emerged showing the moment an unarmed black man was tasered and shot dead.
Terence Crutcher, 40, was killed after police were called to investigate reports of an abandoned vehicle in the middle of a road in Tulsa on Friday.
Tulsa Police Department Chief Chuck Jordan said Betty Shelby, the officer who shot Crutcher, told dispatchers he was uncooperative.
The victim's family is pressing for charges.