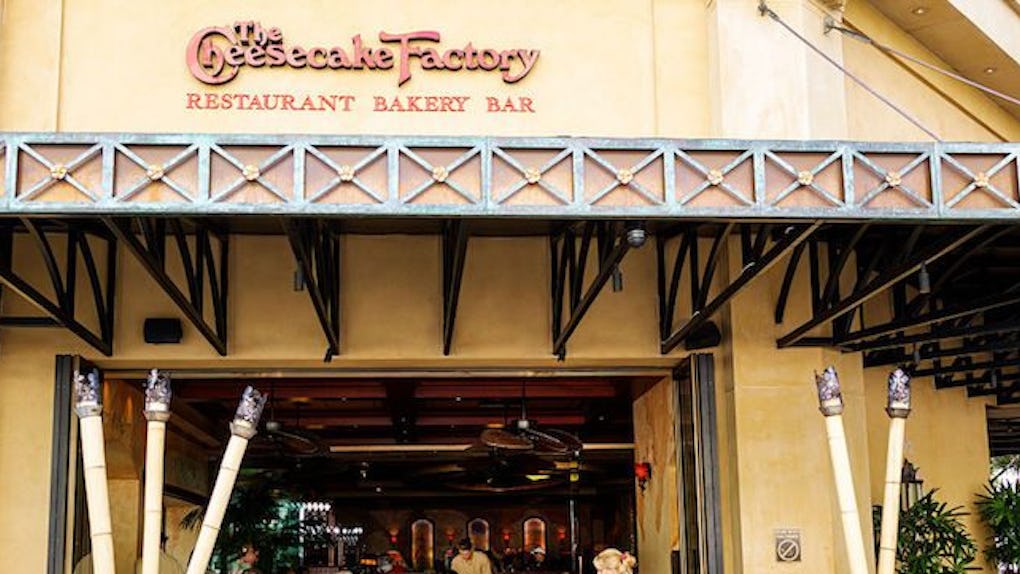 Jeff Greenberg / Contributor / Getty Images
Cheesecake Factory's Pumpkin Cheesecake Gives Proceeds To Feeding America
There's no sense denying it: Pumpkin is having a moment. From lattes to desserts and unusual items like deodorant and hairspray, the flavor has officially put everyone in an autumn state of mind... even though the weather is still fairly warm in most parts of the country. Now that the Cheesecake Factory's pumpkin cheesecake has been re-released for this special time of year, you better believe that this is the perfect excuse to get cozy and indulge.
The exciting news will definitely have people rearranging their dinner plans, but for those who don't live near a Cheesecake Factory location, fear not: The chain is kind enough to ship its dessert anywhere in the U.S., so if you want to enjoy some fall treats in the comfort of your own home (to accompany your scary movie marathon, of course) you've hit the pumpkin jackpot. If you're really looking to live on the edge, order yourself a slice (or an entire pie) of pumpkin pecan cheesecake — a stellar combination if ever there was one. The sprinkling of caramel syrup and dollop of whipped cream is the perfect way to seal the pumpkin pecan deal. I don't know about you, but I'm certainly sold.
Typically, customers tend to get a little preoccupied when they have pumpkin on the brain. It's all about instant gratification and feeling like you're about to embark on a haunted hay ride. But the Cheesecake Factory is taking everyone's favorite seasonal item and putting a philanthropic spin on their purchase. Up until Thanksgiving, the restaurant will donate 25 cents to Feeding America for each slice it sells, according to Delish. This comes on the heels of the chain's summer collaboration with the nonprofit organization, when the same rules applied with the Funfetti Cheesecake. Elite Daily reached out to the Cheesecake Factory for comment, but did not hear back at the time of publication.
'Tis the season for giving — and pumpkins — so this is definitely one way to enjoy the flavor and help others. If you're looking to bring a little bit of the pumpkin fun home, here are some ways to use pumpkin seeds when you're done carving a jack-o-lantern. Save those bad boys for a smoothie (a healthy way to enjoy the best of the season) or throw them into your next batch of muffins. Having soup? Let the pumpkin seeds replace your croutons. Not only are you sending off spooky vibes thanks to your superior carving skills, but you're also benefiting health-wise from the flavor.
If health food isn't really your thing when pumpkin spice comes to mind, don't sweat it. There are plenty of sweet treats to keep you satisfied... emphasis on "plenty." Rice Krispies, Oreos, Kit Kats, Milanos, and anything else you can possibly imagine is getting the pumpkin treatment, so there's certainly no need to fret.
Now that we've gotten your attention with all of this pumpkin talk, it's probably a good idea to start thinking about your Halloween costume. No, no, this isn't rushing the seasons — this is just being practical. If the pop-up Halloween stores in your neighborhood have resurfaced, it's time to head on over and take a look. Whether you're dressing up with your BFF or searching for matching costumes with your bae, there are definitely ways to get the creative juices flowing. And want to know what goes really well with costumes and candy at your annual Halloween party? That pumpkin pecan cheesecake (but I'm sure you already knew that).
Now that fall is upon us (sort of) there's no excuse not to indulge in what this time of year has to offer — plus you can walk away from the Cheesecake Factory feeling stuffed and good about where your money is going. Cheers to all-pumpkin everything.