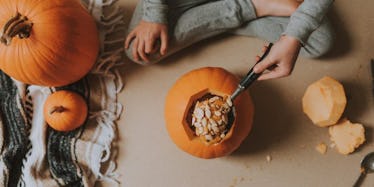 5 Delicious Ways To Enjoy Your Pumpkin Seeds After You're Done Carving
The fall season is inching its way toward us, bringing with it its signature warm hues, nippy weather, bright orange pumpkins, and, something I'm sure you often forget about, pumpkin seeds! As much as everyone glorifies all things of the pumpkin variety this time of year, it's not often you hear much about those little pumpkin seeds, which is a shame because they come with a whole host of benefits and can make any recipe so much better. There are tons of easy pumpkin seed recipes that definitely don't get the credit they deserve, especially come Halloween season.
Whether roasted or raw (if you ask me, they taste way better roasted), pumpkin seeds make for a tasty snack that is loaded with magnesium. Plus, research has suggested that increasing your consumption of plant-based foods like pumpkin seeds "decreases the risk of obesity, diabetes, heart disease, and overall mortality, while promoting healthy complexion and hair," as well as increased energy levels, according to Medical News Today. Not too shabby for some measly seeds, huh?
So, as you can see, there are plenty of reasons to not throw away your pumpkin seeds after you're done carving your jack o' lantern this fall. Save those babies for later so you can spruce up a meal, add a garnishing touch, or even hold yourself over with a light, healthy, seasonal snack. Her are five delicious ways to make the most of your plethora of pumpkin seeds.
1. Embellish Your Smoothie
I personally love to make a protein smoothie with blueberries, spring mix, protein powder, almond milk and handful of pumpkin seeds sprinkled on top. And, I won't lie, the finished product is totally Insta-worthy. But get this, not only do pumpkin seeds make my smoothie more photogenic, but they add a desired crunch to my protein-packed morning beverage.
I don't know about you, but when I have something like a smoothie, I need a little crunch -- just something to chew on to make myself feel as if I've actually consumed something hearty (it's all in the mind, baby). So, if you're like me, sprinkling pumpkin seeds on top of your smoothie adds some much-needed texture to the mix, and also provides your body with some serious nutrient-dense benefits, like chlorophyll, which cleanses the body.
2. Add Them To Your Homemade Muffins
What I love about this is that, with pumpkin seed muffins, you can get that sweet, carb-loaded satisfaction, but with a slight hint of a nutty undertone -- and to me, that sounds delectable.
Plus, who says dessert can't be nutritious? These apple pumpkin seed muffins courtesy of Homemade Food Junkie sound absolutely delicious.
3. Add Them To Your Pesto Pasta
Pumpkin seeds are a surprisingly versatile food, guys.
If you love pesto, try adding pumpkin seeds to your usual mix for an extra kick to get that perfect balance of nutty crunch and savory flavor.
4. Make Creamy Pumpkin Seed Butter
There's peanut butter, almond butter, and hazelnut butter, but there's very little talk about pumpkin seed butter, and I honestly don't know why.
For a creamy butter spread on a warm piece of to-die-for bread, you can get all the healthful benefits of pumpkin seeds (like omega 3 fatty acids) at zero cost and delightful taste. How can you pass that up?!
5. Sprinkle Them Over Your Soup
Not only does sprinkling pumpkin seeds over your soup provide for additional flavoring, but it can also make a really plain soup look pretty darn spiffy.
If you're having guests over for a cozy fall night and you plan on whipping up a hearty batch of soup, garnishing your dish with pumpkin seeds will make you look like your adulting skills are not to be f*cked with.