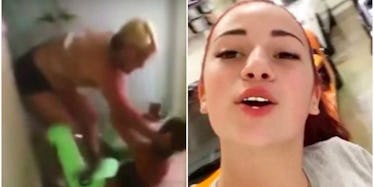 'Cash Me Outside' Girl's Mom Is Officially Being Investigated Over This Video
YouTube
The "Cash Me Outside" girl's mom is reportedly being investigated by cops over the brutal video of the two fighting.
The viral clip, which shows Danielle Bregoli and her mom getting physical in a house, has been brought to the attention of police in Boynton Beach, Florida, according to TMZ.
In the footage, Danielle's mom can be seen holding her daughter on the ground by her hair, saying things like, "You're so fucking tough?" and calling her a "bitch."
Another video shows the 14-year-old's mom screaming, "Give it to me, bitch."
They were made public in March by someone who filmed the video second-hand on their own phone as it was played on another.
It's not known what stage the investigation is currently at.
Meanwhile, it's been reported Danielle is getting her own TV show -- so don't expect her to go away any time soon.
She's allegedly signed a contract with a popular TV production company and, although nothing has been filmed yet, the show is set to have more drama than any reality series ever.
You've got to hand it to her: "Cash Me Outside" girl has capitalized on a meme like never before. She may actually be making history in a weird sort of way.
A few weeks back, we found out she was charging around $30,000 for a meet-and-greet in the US, and $40,000 for appearances outside the country.
Throw this together with her various other sources of income like merch (yeah, people are actually buying "cash me outside" rugs and mugs), music videos and whatever she's doing with social media and you've got one hell of a money-maker.
In fact, Big D is doing so well it's estimated she'll be a millionaire by the end of 2017, SO HOW BOW DAH?
Try not to cry yourself to sleep tonight.
Citations: 'CASH ME OUTSIDE' GIRL COPS LOOKING INTO MOM FIGHT VIDEO (TMZ)