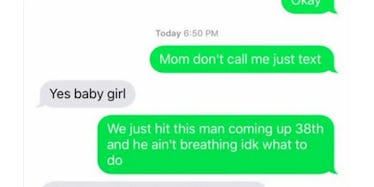 Girl Plays Dark Car Crash Prank On Mom And Gets Unexpectedly Ratchet Response
Twitter
There's nothing better than pulling off a genius and, not to mention, totally hilarious prank every now and then.
It's one thing to having a little mischievous fun by replacing your dad's deodorant with cream cheese, or calling mom from a blocked number and asking if the refrigerator is running.
However, texting your parents to inform them you just ran over and killed someone takes pranking your folks to an entirely different level.
Recently, Twitter user @IAmVinnieF shared a dark car crash prank that his sister played on their mom.
However, the girl got quite a surprise when he mom replied to her message with an unexpectedly savage response.
Instead of pulling the classic worried-mom reaction and telling her daughter to immediately dial 911, this mom comes up with a plan to get rid of the evidence.
Yep, the mom instructs her daughter to "put his ass in the trunk" and meet her somewhere so she can take the car and get rid of the body.
If that's not enough to prove that this OG mom is loyal AF, she even offers to take the blame, should they get caught by the police.
Yeah, this dedicated mama basically the definition of "ride or die."
After @IAmVinnieF posted a screen shot of the text message conversation on Twitter, it didn't take long before the car crash prank to go viral.
Now, lots of people are trying this cruel prank out on their parents and sharing the results on social media.
As you can imagine, few parents reply to this prank as well as @IAmVinnieF's badass mom.
One Twitter user proved this joke might have taken pranks a bit too far.
One girl's father didn't find the prank the too funny, either, and gave her a punishment.
Then there was a dad who reacted to the bad news with the most dad response ever: "Call mom immediately."
Then there was a mom who told her daughter she was on her own with this particular f*ck up.
However, there was one MVP dad who came in almost as clutch as @IAmVinnieF's ride or die mom.
If there's one thing we can learn from this dark car crash prank, it's that most of us would probably be screwed if we actually had to rely on our parents to help us with this awful scenario IRL.
Citations: Girl plays morbid prank on mum and gets a completely unexpected reaction Read more: http://metro.co.uk/2016/12/08/girl-plays-morbid-prank-on-mum-and-gets-a-completely-unexpected-reaction-6306885/#ixzz4SGeUfD00 (Metro UK)