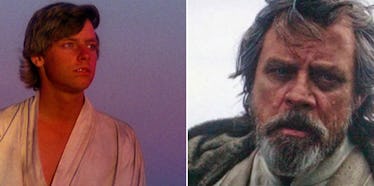 Depressing 2016 Before-And-After Memes Show How Much The Year Has Aged Us
20th Century Fox / Disney
It looks like the last meme of 2016 is going to be a meme about how much we all hated 2016, because this year was just that awful.
Even if 2016 was an amazing year for you, personally, you can't deny that any year that includes the election of Donald Trump as leader of the free world, the end of the United Kingdom as we know it and the deaths of Alan Rickman, David Bowie AND Gene Wilder is a pretty terrible year.
All things considered, I think most of us are feeling straight up exhausted at the end of a year like this.
And what's the best way to express these feelings of frustration and exhaustion in this millennial era?
Through the great art form of meme, of course.
On Twitter, people have been sharing images that sum them up "at the beginning of 2016" versus them "at the end of 2016."
It's been a long, hard year for a lot of us.
It's been a long, hard year for the kids.
And it's been a long, hard year for the parents, too.
Maybe you were super confident back in January, because you thought 2016 was finally going to be your year.
Or maybe you started out 2016 already a mess, but hoped to turn things around.
Either way, things aren't looking so great here in December.
In fact, things are looking downright bad.
At least we have memes to help us laugh through the pain though, right?
Ha ha ha... *starts sobbing uncontrollably*
At least some people found serenity in their pain.
And some are coming out stronger on the other side of hell.
But most of us are just straight up panicking.
And/or drowning our sorrows in alcohol.
Thanks for all the terrible memories, 2016!
We will all look back on them and shudder for many years to come.
Citations: People Show How 2016 Has Changed Them In The Year's Most Depressing Meme (The Huffington Post)