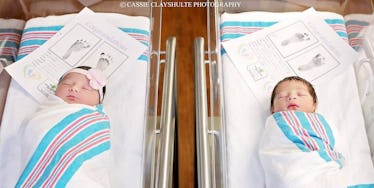 Everyone's Shipping Babies Named Romeo And Juliet Born Hours Apart In Hospital
Cassie Clayshulte
A modern-day version of Shakespeare's "Romeo and Juliet" is giving a whole new meaning to the term "young love."
Cassie Clayshulte, the official newborn photographer at the Coastal Carolina Hospital, came across a rare sight during work one day when she spotted two newborn babies named Romeo and Juliet.
According to Cassie's viral Facebook post, the two infants were born within 24 hours of each other at the same hospital. What makes this so special is both children come from different families.
Morgan and Edwin Hernandez first gave birth to their newborn son Romeo at 2:06 pm. In a separate room, Christiana and Allan Shifflett welcomed their daughter Juliet into the world 18 hours later.
Photographer Cassie Clayshulte took to Facebook to share the rare occurrence with the world, and people are already shipping them. Can you blame them?!
This might be rarer than a Bigfoot sighting.
Clayshulte posted,
Sunday afternoon in Bluffton, South Carolina at 2:06 pm, Morgan and Edwin Hernandez welcomed their baby into the world and named him Romeo. 18 hours and 8 minutes later, in the next room, Christiana and Allan Shifflett welcomed a baby girl and named her... that's right... Juliet!
The South Carolina-based photographer then went on to explain both couples had selected their baby names months ago and didn't know each other until they met on March 20.
Both parents had picked these names out early on in their pregnancies and neither couple knew each other until they met today! Both babies have full heads of hair and already make the cutest couple!
"Cutest couple?!" Those are pretty big shoes to fill. Something tells me she's right, though. Let's take a look, shall we?
Meet Romeo and Juliet, two newborn babies coincidentally born at the same hospital within 24 hours of each other.
Who knows when this will happen again?
It didn't take too long before the internet began shipping them.
We can only hope they keep in touch.
OK, if they don't end up getting married and living happily ever after, can they at least be BFFs?
And if that's too much to ask for, can they at least celebrate their first birthdays together?!
Honestly, both families should make sure they keep in contact with each other.
After all, this kind of coincidence hardly ever happens. Plus, if they do end up sharing a love life together, they'd make for great reality TV stars.
Congratulations to the Shifflett and Hernandez families!
For more of Cassie Clayshulte's work, be sure to connect with her on Facebook and follow her on Instagram.
Citations: Adorable story of star-crossed babies born in the same hospital goes viral (Mashable)