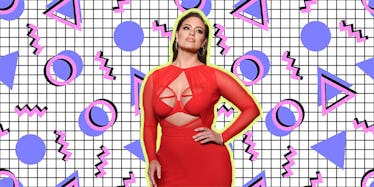 Ashley Graham Just Posted The Most Relatable Instagram About Boob Standards
REX/Shutterstock
Ashley Graham knows how to keep it real in life and on Instagram.
Today, she posted something so painfully relatable about boobs (especially to me and my, ehem, saggy boobs) that we just had to share it. It's a good reminder for all women, honestly.
This isn't the first time Ashley Graham has posted body-positive messages on her Instagram or talked about it on social media. She encourages women to show off their bikini bodies and doesn't hesitate to speak up in discussions about body positivity.
Here's the post, which she credited to TheNakedDiaries:
It's so true, though. I honestly don't know of one real woman who couldn't relate to this.
No boobs really look that perfect, like the pair on the left. Thank you, Miss Graham, for reminding us that no boobs look "normal" in comparison to the ridiculous breast standards bra advertisements force us to subscribe to.
If you need more body-positive influence in your life, definitely keep your eyes on this model's Instagram.