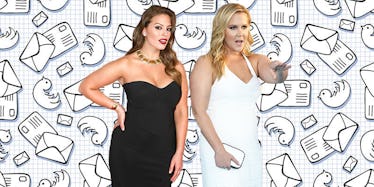 Twitter Loved How Amy Schumer And Ashley Graham Handled The 'Plus Size' Thing
REX/Shutterstock
Celebrity feuds are entertaining, but respect, support and real celeb friendships have the power to create change.
Yesterday, model Ashley Graham and comedian Amy Schumer seemed to be disputing over their views on what it means to be "plus sized." Both Graham and Schumer were featured in Glamour's plus-size issue a few months ago.
Schumer doesn't really see herself as plus sized because she fluctuates between a size 6 and 8. She posted an Instagram expressing that she was upset to be featured in the issue without permission. Yet Graham called Schumer out for relying on her size and describing herself as "bigger" in some of her jokes and material.
Two major role models for women butting heads like this doesn't do the body positive community a ton of favors. Luckily these smart women know better than to bicker about labels that shouldn't exist anyway.
They made up on Twitter yesterday and received a flood of positive and supportive replies.
Here's the original convo between Ashley Graham and Amy Schumer.
Ladies on Twitter appreciated the positive vibes.
Other Twitter users took this as an opportunity to get in on the conversation.
This dad was super into the positive vibes between the ladies too.
Overall, their Twitter interaction spoke volumes and was very relatable.
We need to be seeing more of this type of conversation from role models, especially on platforms like Twitter where anyone can join in the discussion.
The fact that these two amazing women can remain professional, respectful and friendly is a great indicator that labels like "plus size" will disappear eventually. Because they don't really matter. Categories don't make a difference, but seeing strong women treat each other with respect totally does.