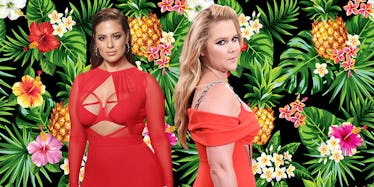 Ashley Graham Criticizes Amy Schumer For Not Wanting The 'Plus-Size' Label
REX/Shutterstock
Ashley Graham is finally speaking out on Amy Schumer's problem with being called "plus-sized."
Back in April, Amy Schumer called out Glamour for featuring her in the magazine's first plus-sized issue alongside Melissa McCarthy, Adele and Ashely Graham.
The 35-year-old comedian argued in an Instagram post plus-size is typically considered a size 16 and up in the US, while she fluctuates between size 6 and 8.
Amy said she felt there is nothing wrong with being plus-sized, but putting her body under that label sent the wrong message to young girls.
Now, months later, well-known plus-size model and body activist Ashley Graham (also featured in the issue) has something to say about that.
In her recent cover issue with Cosmopolitan, Ashley said while she sort of saw Amy's point, the comedian also frequently uses her weight for her comedy.
Ashley said,
I can see both sides, but Amy talks about being a big girl in the industry. You thrive on being a big girl, but when you're grouped in with us, you're not happy about it? That, to me, felt like a double standard.
Hmmm. Both women seem to have fair points. On the one hand, assigning Amy this plus-size label does seem harmful as well as inaccurate.
But on the other hand, it does seem kind of weird Amy would want to distance herself from the other ladies in the original Glamour issue.
It'd probably be best if we just forgot this whole "labeling women's bodies" thing altogether.
Update 2:37 pm EST: Amy Schumer responded to Ashley Graham on Twitter:
Seems like a lot of respect from awesome ladies all around!
Citations: Ashley Graham Calls Out Amy Schumer for Not Wanting to be Labeled Plus-Size: 'You Thrive on Being a Big Girl' (Entertainment Tonight)