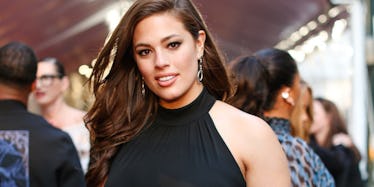 Ashley Graham Shut Down Internet Trolls With This Perfect Bathing Suit Photo
REX/Shutterstock
As the body positive movement continues to grow, we've seen a lot of curvy models like Ashley Graham steal the spotlight.
But, we all know that as you rise to the top, you're always going to have haters who try to bring you down.
Ashley Graham is certainly no stranger to dealing with criticism from all the assholes out there who have an issue with her size. However, instead of letting her critics get to her, the 28-year-old Sports Illustrated cover model decided to shut down her haters in the best way ever.
On Wednesday, she celebrated her imperfections and flaunted her stunning curves by posting a bathing suit pic on Instagram along with the empowering caption:
Someone once told me my thighs were 'cellulite city.' But I now realize these thighs tell a story of victory and courage. I will not let others dictate what they think my body should look like for their own comfort, and neither should you.
This isn't the first time Graham has been at the forefront of body positivity. She's been an advocate of several movements that celebrate body positivity in the past, such as the #EffYourBeautyStandards and the #BeautyBeyondSize hashtag campaigns on Instagram.
Plus, she's also worked with body positive brands like Swimsuits For All to promote the #MySwimBody campaign, which is a body image initiative that urges women to lose their fixations with thigh gaps and love their "flaws" by sharing bikini pictures on social media.
Back in May, Graham told PEOPLE,
A lot of taking care of my body and my mind and my soul had to do with talking to myself and actually giving myself affirmations [...] I still had cellulite, I still had back fat, I still had jiggly arms, and I decided to love every part of it.
If you ask me, we could all learn a thing or two about loving ourselves from the gorgeous Ashley Graham.
Check out the pictures below to see this inspiring model:
Ashley Graham just shut down her haters by posting a bikini picture on Instagram that celebrates her cellulite.
However, this isn't the first time Graham has been a leader in the body positive movement.
Graham has supported a wide range of campaigns urging people to embrace their imperfections. Not to mention, she's also teamed up with fellow plus-size models like Iskra Lawrence...
To promote body positive initiatives like Swimsuits For All's #MySwimBody social media campaign...
Uncover your curves. You know you want to. Share your #MySwimBody photo with @swimsuitsforall. @taralynn you're up! pic.twitter.com/h8cxqoHdBJ — Ashley Graham (@theashleygraham) July 2, 2016
...which encourages women to embrace their figures by posting bikini pictures on social media.
Graham is never afraid to challenge the ridiculous beauty standards of society, and this gorgeous gal serves as living proof you don't need to be a size 0 to be absolutely stunning.
At the end of the day, we're all beautiful in our own unique ways, and if you ask me, we should all follow in her footsteps and celebrate our curves.
Citations: Ashley Graham Celebrates Her Curves After Internet Trolls Criticize Her Body (PEOPLE)