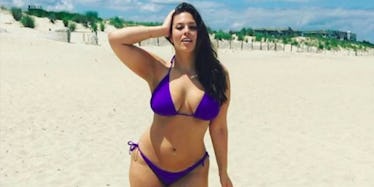 Ashley Graham's Body-Positive Pic Encourages People To Share Their Swim Bodies
Instagram
Ashley Graham is back at it again, spreading body positivity all over the land.
As if we could love her any more, the supermodel and Sports Illustrated covergirl posted photos from her recent beach vacation that show off her gorgeous bod while also promoting self-acceptance. According to Daily Mail, on Sunday afternoon, Graham took to Snapchat to blast out a series of super-cute snaps for her adoring fans.
Sporting two different bikinis at the Delaware Seashore State Park, Graham spent the day relaxing with her husband, Justin Ervin, and her mother-in-law. In addition to her Snapchat spree, the 28-year-old model posted a photo to her Instagram in which she looks happy and healthy.
In the caption, she encouraged fans to share their own body-positive pics, writing,
Show off your swim body! Take a pic in a swimsuit, share it, tag it with #MySwimBody and tag your friends to post theirs – you could win a free swimsuit from @swimsuitsforall! @denisemmercedes, it's your turn.
Check out Ashley Graham's beach day snaps in the video above, and remember, every body is a beach body.
Citations: She's a real bikini babe! Ashley Graham shows off her curvy thighs in series of sexy unretouched Snapchat posts as she enjoys a sun-soaked beach day with her husband (Daily Mail)