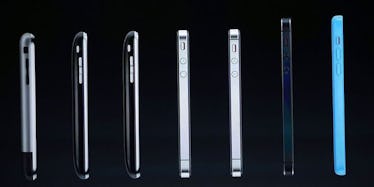 Here's Everything We Hope Apple Releases During its Keynote Event
Justin Sullivan / Staff / Getty Images
After a summer of sorting fact from fiction, techies are finally getting a break. The Tuesday, Sept. 12, Apple keynote event will address what customers can look forward to, and you better believe that people are ready — more than ready, in fact — to hear the latest updates straight from the company itself. Apple plans to release gadgets during its keynote, and the anticipation is intense.
The event will supposedly introduce new models of three existing devices: the iPhone, Apple Watch, and Apple TV, according to Refinery29. Since this event marks the company's 10-year anniversary, the updates are sure to be mind blowing. After all, double digits are cause for celebration.
Here's what everyone's anticipating from the event.
The latest iPhone devices are expected to be called the iPhone 8, iPhone 8 Plus, and iPhone X, marking the 10-year anniversary of the device. This is all according to rumors from 9to5Mac, so time will tell what exactly everyone can expect. Customers have gotten excited about potential new device colors and the supposed facial recognition feature that is believed to replace the touchscreen users have grown accustomed to. With all these bells and whistles comes a pretty hefty price tag — supposedly around $1,000, if not more — so fingers crossed that the iPhone 7 updates will be revealed as well, since they might be a more viable option.
The Apple Watch made a splash, and it seems telling time isn't an option unless it's in the form of a smart watch. Who wouldn't want all of that power in the palm of their hands (well, rather, on their wrists)? The updated device is set to include an LTE modem, according to The Verge. In fancy tech terms, that means it'll operate independently from your iPhone, more so than it has in the past.
Lastly, Apple TV is expected to include more powerful streaming capabilities, so if you're looking for a horror movie to enjoy alongside your pumpkin spice-everything, this is definitely cause for celebration. Bring on the scary movies.
This is definitely the tech party of the season, so naturally, invites are exclusive. The Steve Jobs Theater in Cupertino is a pretty snazzy and high-tech place, so common folk like you and I might have missed getting an invite in the mail. But fret not, techies. You can livestream Apple's Keynote, so your case of FOMO will be a thing of the past. It'll almost be as satisfying as a spot at the Steve Jobs Theater... almost.
Here's what you need to know if you're planning on tuning into the live stream.
You're able to watch the event — which begins at 10 a.m. PT — from your iPhone, iPad, or iPod Touch. If you will be tuning in from one of these devices, you'll need to make sure that it's an iOS7 or later and that you are using the Safari browser. Got that? If your go-to gadget is either a Mac or MacBook, make sure that you've downloaded the latest Safari and OS X updates. And naturally, if you have Apple TV, that's also a viable option if you're looking to take a peek.
Of course, this is huge news for everyone. Steve Jobs totally revolutionized the way we use the phone and what exactly the device entails. It's hard to imagine life without our iPhones, but in the grand scheme of things, 10 years isn't terribly long. Regardless, this is sure to be the tech party of the year.
Whether or not you're actually planning on purchasing one of these devices, it's pretty exciting to think about how far Apple has come with its products. What do you think we'll see in another 10 years with the phone? Reports suggested that a handheld phone might be a thing of the past come Apple's 20-year anniversary for the iPhone. But I guess we won't jump the gun just yet.
Here's to the phone's 10th birthday!