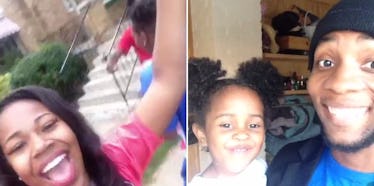 This Amazing Hashtag Brings A Little Bit Of Brightness To A Week Of Heartbreak
Twitter
It's been a rough week for people around the world due to the recent events in Dallas, Minnesota and Louisiana revolving around police brutality and racial injustice. As many people look for ways to express themselves, social media typically ends up being the most convenient emotional outlet.
But in the wake of tragedy, not everything on social media is designed to make you smile -- except for this awesome hashtag created by Heben Nigatu, a writer for "The Daily Show" and co-host for BuzzFeed's "Another Round" podcast.
According to Mashable, the hashtag, #CarefreeBlackKids2k16, began trending on Twitter after Nigatu posted this video:
Since then, the post has racked up over 9,000 retweets and 16,000 likes. In addition, fellow Twitter users have began circulating the hashtag by posting joyful videos of their own to comfort others in the midst of tragedy.
The #CarefreeBlackKids2k16 hashtag brings a bit of brightness and light into a dark week of heartbreak for Americans and people around the world. Check out a few posts from the hashtag below for a closer look.
Writer and podcaster Heben Nigatu created an awesome hashtag on July 7 called #CarefreeBlackKids2k16.
The hashtag was created to comfort others in the midst of the tragic events that took place in Dallas, Minnesota and Louisiana this week.
Each video features black youth smiling, singing, dancing and having joyous time despite the recent earth-shaking tragedies against the black community involving police brutality and racial injustice.
The videos are heartwarming for those both inside and outside of the black community. At the end of the day, we're all human and we all deserve to enjoy life.
The #CareFreeBlackKids2k16 hashtag proves, regardless of skin color, race, age, sexual preference and economic status, we all deserve to live comfortably in our own skin.
Since Heben Nigatu posted the first #CarefreeBlackKids2k16 tweet, the hashtag has circulated throughout Twitter as a trending topic.
Check out more heartwarming, youthful videos here... and even though things might seem tough in the moment, don't forget to smile.
Citations: #CarefreeBlackKids2k16 offers comfort in the midst of tragedy (Mashable)