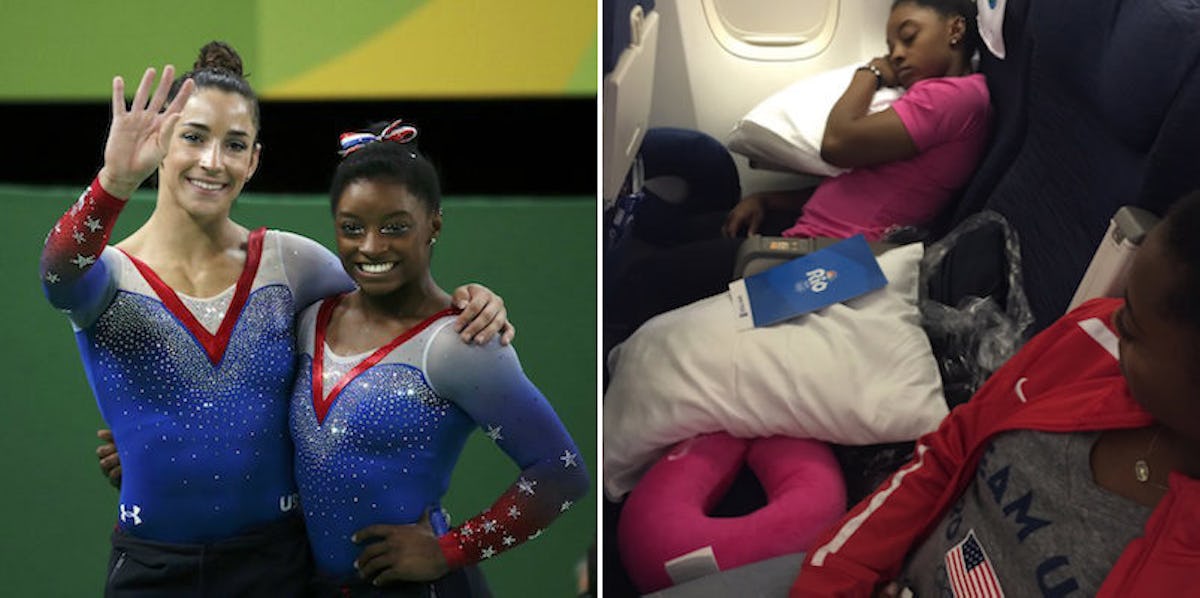 We've All Been Simone Biles Getting Trolled By Aly Raisman For Falling Asleep
REUTERS/Twitter
For Simone Biles, the last few weeks in Rio at the Olympics have been pretty monumental. She took home four gold medals, and she was selected to bear the flag for Team USA at the closing ceremony on Saturday.
But just like anyone, gold medal winner or not, Biles falls asleep on planes. Can you blame her? She had a busy month.
Luckily, her teammate, gymnast Aly Raisman, knows EXACTLY what to do when your friend falls asleep -- and that's snap a picture and post it on the internet, of course.
She captioned her Twitter picture,
Miss Simone Biles fell asleep before we took off. WHO'S THE GRANDMA NOW GUYS?
Classic, Aly.
Because she's basically a perfect human being (can you tell I'm a fan?) Simone retweeted the photo later.
Simone, you earned that nap. Carrying around all those medals must be tiring AF.
She probably planned to sleep the entire way -- why else would anyone take a window seat?
Also, let's just note even gold medalists fly in coach. Remember that next time you book a flight.
Citations: A well-earned rest! Simone Biles naps on the flight home from Rio as Team USA's victorious athletes leave Brazil (Daily Mail)