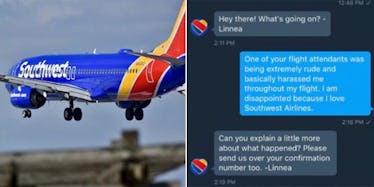 Airline Perfectly One-Ups Girl After She Tries To Troll Them With Fake Complaint
Shutterstock/Twitter
With so many controversial airline stories in the news lately, tensions are running a bit high at the moment.
Needless to say, we're all in need of some plane-related comic relief.
And Twitter user @xadoringpaige definitely delivered on that front.
Paige decided to contact a representative from Southwest Airlines to "complain" about a flight attendant who she claimed had been "extremely rude" and "harassed" her throughout the flight.
A Southwest rep named Linnea answered her concern, asking for a confirmation number and more information about the alleged incident.
Paige replied,
Basically, she only referred to me as 'fattie' and was being extremely rude. When I asked her for extra sugar for my coffee she hesitated, and when she gave me it she whispered in my ear "You'll die soon enough fattie.
Linnea was, of course, horrified by Paige's story and asked again for more information so she could help her in officially filing the complaint.
Paige also let Southwest know she had a picture of the flight attendant in question, if needed.
I'm sure Paige thought she was being reeeeal slick with this prank, but little did she know, Southwest has a sense of humor, too.
GIRL, LINNEA JUST GOT YOU SO GOOD.
How Paige managed to have a full-on conversation with a representative from a large corporation, we will never understand.
But dat customer service, doe.
What other airline would be this chill AND this funny?
AND LINNEA.
THAT WOMAN IS A TOTAL LEGEND.
Southwest Airline's impressive customer service and sense of humor aren't all that surprising after a recent study by WalletHub revealed it receives the least amount of complaints in comparison to its competitors.
The research also showed the airline ranked pretty well in terms of on-board comfort, too.
Keep doing whatever you're doing, Southwest, because clearly, it's working.
Citations: Woman trolled airline on Twitter and their response was amazing (Metro.co.uk)