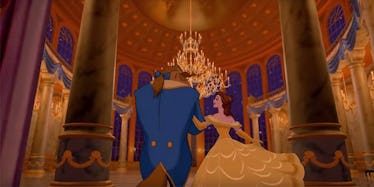 Classic Disney Princess Movies Are Coming To Theaters In The Best Marathon Ever
YouTube
I have good news: Some of your favorite movies are returning to the big screen this fall. For one month only, AMC will be marathoning five Disney princess movies from Sept. 15 to Oct. 19 at select AMC Classic and AMC Dine-In locations, according to its website. Consider this your cue to cancel all other plans.
AMC is calling the limited time event "Dream Big, Princess," which is actually perfect, because I've been dreaming of watching my faves from the cozy theater seat perspective with real, butter-covered movie theater popcorn at my fingertips.
That said, here are all the titles and dates you'll soon be able to catch at your local AMC. Mark you calendars and plan accordingly!
Beauty and the Beast
The '91 version of the Disney classic will hit theaters Sept. 15 through Sept. 21.
Mulan
Sometime between Sept. 22 and Sept. 28, ask yourself the question, "Who is that girl I see?"
Tangled
If you missed this Rapunzel tale in theaters the first time around, plan for a raincheck between Sept. 28 and Oct. 5.
The Princess and the Frog
Re-watch Disney's first-ever black princess' incredible story from Oct. 6 through Oct. 12.
Brave
Be brave like Merida and go ahead and book your tickets to see her epic journey Oct. 13 through Oct. 19.
I can't think of a better way to celebrate fall's start. My only critique is that they should've included The Little Mermaid.
Regardless, I'm super excited to sneak my pumpkin spice latte and my pumpkin bread into my local AMC for some princess #inspo.
Like, Beauty and the Beast... in theatres? Movie buffs, let's do this Pokémon style and catch 'em all. (Also, pro tip: if you want to really channel your inner princess, start crocheting your very own princess dress blanket now for added comfort in the theater.)
If I could crochet, I'd totally bring a princess blanket along for the viewings.