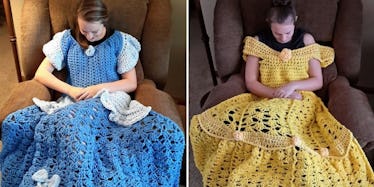 Princess Dress Blankets Will Make Your Naps So Magical, But There's A Catch
Anyone who spends too much time on the couch watching mind-numbing TV (me) will be delighted to learn that you can now own princess dress blankets that'll make your laziness a truly royal experience... sort of. To be clear, you can now own crochet patterns that show you how to make the blankets yourself, Cosmopolitan reports.
Etsy vendor Carol Hladik, whose shop is called CHCreations4U on the e-commerce platform, sells three different crochet pattern PDF downloads that'll yield the perfect swap for your old mermaid tail blanket.
According to her product descriptions, the final product should "look like a princess dress. Just slip your arms in and feel like a princess!" I mean, that is my goal. Always.
Since this project is totally customizable, you don't have to go with the same colored yarn Hladik uses in her product images. However, if you're going full-on Disney-inspired, I'd try to do so. Here's what you can expect.
A Belle-inspired dress.
A Sleeping Beauty-inspired dress.
A Rapunzel-inspired dress.
As for the inspiration behind her magical idea, Hladik told Cosmopolitan,
I thought it would be nice to have a fun blanket to help me feel better. I love princesses and big, poufy skirts. Even when I got married, I wanted that big skirt. I was playing around and decided to create something fun.
Mission accomplished!
To get started on this intermediate-level crochet project, you'll first need about 2,400 yards of worsted weight yarn for an adult-sized blanket. With your pre-purchased pattern (they're only $5.50), follow along with two strands and a hook to -- as Hladik puts it -- "work up quickly."
I know nothing about crocheting, but I plan on watching a few YouTube videos and/or outsourcing this must-have blanket to a pro. My Netflix binging life will not be complete until I'm simultaneously covered in a crocheted Belle gown and sipping rosé.