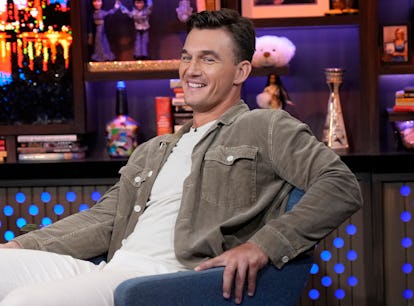 Tyler Cameron Knows What He's Looking For
"I'm trying to cuff somebody up this season."
Four years after appearing on The Bachelorette in 2019, Tyler Cameron's dating life is as relevant as ever. The 30-year-old knows it, too. As the Bachelor's resident "one that got away," Cameron even tried to leverage his appeal — which one fan on Twitter affectionately referred to as his "himbo stud personality" — for a full-time role as the show's host. (Luckily for Jesse Palmer, his pitch didn't work.)
While Bachelor hosting may not be in his future, Cameron's still got plenty of upcoming plans, starting with cuffing season. This fall, the Special Forces contestant is embracing more experiential dates. He recently partnered with Eventbrite for their GTFO & Date campaign, which helps singles find fresh date ideas — whether it's going to a pickleball tournament or trivia night. "Don't stick to the same thing. Go out there and do something different," Cameron tells Elite Daily. "Quit doing dinner and drinks."
It's not just fun date plans on Cameron's radar, though. He's also got a pretty solid list of what kind of attributes he's hoping to find in a future partner — and wanting to have "a lot of kids" is only one of them.
Here, Cameron shares his cuffing season plans and his least favorite DMs. Plus, he describes what kind of girl makes his head turn.
Elite Daily: What would be your ideal first date?
Tyler Cameron: I'm into doing something eventful. A cooking class could be really fun. That way, you get the food, but also some time to interact, cook, and learn about each other. You can see if your date leans into the experience and has fun with it or not.
I used to be a big dinner and drinks person. But sometimes they're bad, and then you're stuck with nowhere to go. Save that kind of date for down the road.
ED: Have you ever planned a super creative date?
TC: I planned a trapeze date one time. I just told the girl to wear something athletic. We went to this place where they had a whole trapeze set, and we were just flying from one to the next. It was super fun and probably very scary for both of us, but it was good. It got us out of our comfort zone.
ED: How does a date like that — something that's a fun, challenging activity — help break the ice?
TC: It definitely helps. Especially if the date's not going well, and you don't really want to be with that person. At least you can lean into the date and have fun with whatever activity you chose. Plus, there are probably other people there to have fun with even if your date stinks.
ED: When you're on a date, are there any red flags or "icks" you look out for?
TC: Being late. I hate it. Ten to 15 minutes is my buffer. Also, when you're with somebody, unplug from your phone. I hate when you're out on a date and they have their phone out, taking photos or videos of the food. Put that sh*t away.
ED: What about red flags in your DMs? Do you have any advice for sliding into the DMs in a way that stands out?
TC: Be creative. Have fun with it. Don't just hit me with a "hi" or the eyes emoji. A little bit of effort goes a long way. Also, don't be on private. Because then we can only see a little profile picture. You've got to be in public, so we can see who you are.
ED: What's your take on dating apps versus meeting people in real life?
TC: They both work. A lot of my friends have really successful relationships from the apps. The apps really help break the ice, especially for people who have a hard time walking up to somebody. But I love meeting people in person.
ED: OK, so your dream way to meet someone has to be in person, I'm assuming?
TC: Yeah, it's got to be in person. As a high school kid, I was a football player, meeting the other team's cheerleader — that was the dream. But it never worked out. We always had the better-looking cheerleaders in our team.
ED: With fall (and football season) right around the corner, how are you planning on spending this cuffing season?
TC: I'm trying to cuff somebody up this season. I'm going to get out there and date.
In Florida, there's a very small window of cuffing season 'cause it's always bathing suit season except for a few days out of the year. But when it comes to cuffing season, we go for it. We have bonfires; we get all cuddly; we have the big puffer jackets even if it's 50 degrees.
ED: What traits are you looking for in a future partner?
TC: Someone who's ready to get out and have fun. I'm always someone who's trying to go and do something. I don't like sitting around. Someone who wants to have a family one day. I want to have a lot of kids. Also, someone who wants to live in South Florida.
This interview has been edited and condensed for clarity.
This article was originally published on