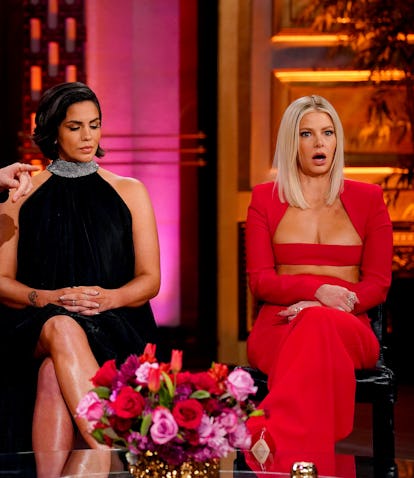 In Defense Of Wearing T-Shirts During Sex
Bravo/NBCUniversal/Getty Images
During the Vanderpump Rules Season 10 reunion Part 3, Tom Sandoval somehow became even more villainous. It wasn't just that he slept with his partner of nine years' best friend and seemed incapable of offering a sincere apology — the reunion episodes Part 1 and Part 2 already covered that. Nope, this time, he decided to insult his ex, Ariana Madix (the one *he* cheated on and betrayed), in the ickiest, grossest, most vile way possible.
ICYMI, when Madix brought up that she and Sandoval had slept together after his affair with Raquel Leviss began, he quipped, "She kept her T-shirt on. It was really hot." The one-liner was spoken with complete disdain, prompting everyone on stage (and watching at home) to recoil in a full body cringe. Lala Kent told him, "You're such a f*cking d*ck." James Kennedy added, "What the f*ck, dude? You're f*cking disgusting." Worst of all, Madix seemed unsurprised by his cruelty.
Watching it play out, I was equally disturbed. But once I struggled past his complete lack of empathy, another thought occurred to me: So, what? Did he really think wearing a T-shirt during sex qualifies as a capital offense? It's not like he accused her of keeping a retainer in during the deed (which, let's be clear, would also be fine if a little un-sexy). No, no, his level of disgust was reserved for a... T-shirt. OK, so maybe Sandoval's comment shouldn't be taken at face value. For fans of the show, it was clearly a dig at Madix's past discussion of body image insecurities. But let's focus on the T-shirt of it all — specifically, are T-shirts during sex really that bad? The answer: a resounding no.
Sex — especially with a partner of nearly a decade — should be an experience that works within both people's comfort zones. If that comfort zone includes furry handcuffs, go for it. If it involves a vibrating toy or two, that works, too. If you'd rather keep a T-shirt on, that's completely your prerogative.
Also, isn't there something kind of, well, hot about keeping a T-shirt on? A thin piece of fabric, getting sweatier and less opaque as you get it on. Maybe your partner pulls the neckline down or the hemline up. IDK about you, but that doesn't sound like a *bad* time — and it certainly isn't the tragic situation that Sandoval seemed to think it was.
Madix, for her part, has repeatedly made it clear that she needs more than just physical, "penetrative" intimacy to feel connected to her partner. "The way that so many men act like they are entitled to your body and entitled to sex because you're in a relationship with them. I am not your Fleshlight," she told Glamour in June.
Sandoval's comment might have landed him in a new level of infamy, but in a rare perfect instance of karma, it's given Madix some major coin. In addition to her surplus of brand deals, she is now selling T-shirts, emblazoned with her face and the phrase, "F*ck me in this T-shirt."
It's official: T-shirt sex has never looked so good.