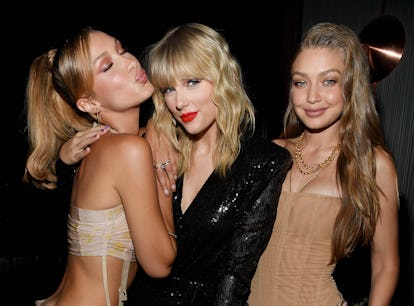 Wait, Do You Need To Unfollow Your Friend's Ex?
Karma is my friends, unfollowing my ex, 'cause they love me.
Kevin Mazur/Getty Images Entertainment/Getty Images
When your friend goes through a breakup, there are a few mandatory duties: bringing over Ben & Jerry's, letting them vent 'til they're blue in the face, reassuring them they can do so (like, *so*) much better... and unfollowing their ex on Instagram. OK, OK, that last one is a little less mandatory and a little more controversial. So, what is the right move?
There isn't one answer, but if you look to Taylor Swift's squad as a guiding light — and TBH, who doesn't? — following in their footsteps means hitting unfollow. ICYMI, after Taylor and Joe Alwyn's reported breakup in April, it didn't take long for her squad to start pressing the unfollow button. So far, here's who has unfollowed Joe:
Gigi Hadid
Este Haim
Danielle Haim
Alana Haim
Ryan Reynolds
Lily Aldridge
Martha Hunt
Austin Swift (Taylor's brother)
Abigail Anderson (Taylor's longtime best friend)
The mass exodus from Joe's follower list has prompted Swifties to question what exactly went down between them. "Joe did something bad," one TikToker wrote. Another commented, "blondie just going around and telling her friends the tea."
Although fans don't know any details of the breakup (and Taylor has yet to confirm it), the unfollowing seems to indicate that it wasn't quite as "amicable" as outlets originally reported. Or are you supposed to unfollow your friend's ex automatically, regardless of the breakup circumstances? Here, a therapist weighs in on the do's and don'ts of Instagram etiquette, post-breakup.
Long Story Short... It Depends
Contrary to popular belief, there isn't one right way to do things — even when it comes to running your Instagram account. "Lead from within," Liz Higgins, LMFT-S, an individual and couples therapist and founder of Millennial Life Counseling, suggests. "We often operate with an external focus, seeking out external validation for our choices with questions like: What will others think? How will this look? But when we make our decisions based on our core values, it's a lot easier to navigate."
That requires weighing the decision yourself, rather than focusing on how others may perceive it. Remember, there's nuance here. There's a difference between your BFF breaking up with her first love after they cheated and your work friend calling off their three-month relationship because their partner moved a few hours away. To figure out the best way to navigate either situation, start by asking yourself some questions: How important is this friendship to me? Did my friend unfollow their ex, and do they expect me to do the same? Do I feel any need to maintain a relationship with my friend's ex? (You never know! Maybe they're one of your co-workers, too.) Did the ex do something egregious, or was the breakup friendly?
By analyzing your own reactions to these questions, you'll be able to find a course of action that makes the most sense for you. "In a situation like this, there really are nuances. Even though the obvious reaction is probably to support your friend by unfollowing, there may be reasons for why that isn't something you need to do," Higgins explains. It's not a one-size-fits-all rule. Otherwise, Taylor's friends Jack Antonoff and Aaron Dessner would have unfollowed Joe by now, too.