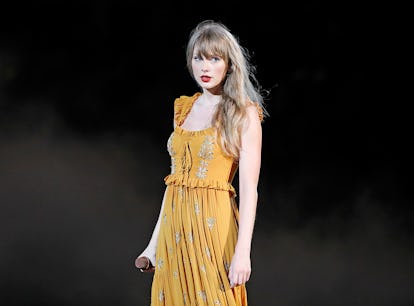 The "Right Where You Left Me" TikTok Trend Is About Painful Breakups
It's time to leave the restaurant.
The beginning of fall mandates a few things: ordering pumpkin spice everything, rewatching Practical Magic, and listening to Taylor Swift's Evermore album on repeat. On TikTok, fans are focusing on one of Swift's most lyrically devastating songs, "Right Where You Left Me." In it, she sings about being stuck "frozen" after a painful breakup. The lyrics go: "Help, I'm still at the restaurant / Still sitting in a corner I haunt... Everybody moved on / I, I stayed there." TikTokers are relating to the feeling of being "at the restaurant," borrowing the phrase to describe their own romantic lives with the "Right Where You Left Me" trend.
A snippet of the song, posted by @favsoundds (an account with over 8 million followers), was edited to be slightly slowed down. Per some fans, this version of the song "hits different," and it inspired a Swiftie-approved trend where users share their own experiences of being "at the restaurant" — or leaving it behind.
The sounds now has over 1,300 videos, most of which use the "restaurant" metaphor to explain their dating history. It's basically a catch-all for being caught up in a breakup or past relationship you can't stop missing. Some people are still "frozen" in that stage, while others are reflecting on what it's like to finally move on, leaving the restaurant once and for all.
Here are some of the best "Right Where You Left Me" videos on TikTok.
This TikToker took the comparison a little further, adding that after leaving the restaurant, she doesn't even "check the menu online" anymore. Take this as your sign to unfollow your ex on Instagram.
Other TikTokers have mixed feelings about leaving the restaurant and finding closure, a "bittersweet" reminder that this person's officially out of your life, so much so that you aren't constantly thinking about them anymore.
Others haven't quite left the restaurant yet — even if they've been there for years.
There's always a chance that leaving the restaurant is a temporary thing — maybe you still check in on it every once in a while.
Whether you're still "at the restaurant" or have moved on, this trend acknowledges the challenges that come with every phase of a breakup. Plus, it's a reminder that although Swift sings, "You left me no choice but to stay here" — aka, at the restaurant — "forever," even the most debilitating heartbreak is temporary.