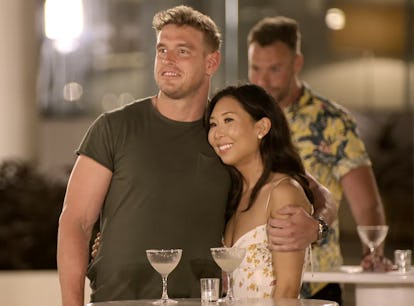 Love Is Blind's Natalie & Shayne Are Beefing On Social Media Again
She compared their financial situation to Izzy and Stacy.
There have been three more seasons of Love Is Blind since Season 2 ended in February 2022, and yet the Season 2 cast is still bringing the drama. In an Oct. 11 episode of her Out of the Pods podcast, Natalie Lee criticized her past relationship with Shayne Jansen while discussing Season 5 couple Stacy Synder and Izzy Zapata. ICYMI, in the show's latest season, Snyder expressed concerns about Zapata's finances — something Lee said she related to after dating Jansen. But on Oct. 12, Jansen took to TikTok and Instagram to slam Lee's claims.
Jansen posted his reaction to a video of Lee talking to fellow LIB alum Deepti Vempati about her and Jansen's engagement. According to Lee, she related to Snyder's worries about dishonesty surrounding finances. "Keeping secrets about finances is not OK... Shayne did that to me in the pods. It never played on TV because I didn't want to embarrass him in front of the cameras, and finances was a sensitive subject for him," she said.
"He did keep things from me and did lie about salary and things like that," Lee added. "After filming is when I found out the full truth. It was a real concern because if you're gonna lie to me about it now, what if we do have financial issues in the future? Are you gonna hide them from me?"
In his reaction clip, Jansen mimed a talking hand while Lee spoke, then added his own video to the end. Filmed on Feb. 20, 2022 (the day before the show's Season 2 reunion), Lee and Jansen were in bed together. He repeatedly asked her to say something, but Lee insisted she was "too embarrassed." Finally, she said, "I wish I said, 'Yes.'" In other words, she regretted not marrying him.
He captioned the video, "This was the night before the [reunion]. SHUT YOUR F*CKING MOUTH ABOUT ME UNLESS YOU HAVE RECEIPTS." He later posted the same clip to Instagram with a slightly less aggressive caption, "She wish she said yes at the alter. SHUT YOUR MOUTH UP ABOUT ME."
In the comments section, he added, "They are allowed to speak whatever they want but you better show some damn receipts when it ruins my character."
Former Netflix reality stars also chimed in comments, showing support for Jansen. Francesca Farago wrote, "Omg.. they're STILL talking about you.. I'm sorry Shayne you don't deserve that 🫠❤️." Shake Chatterjee wrote, "Bro what is wrong w her still talking about you. Makes me mad. Haven't you been through enough? 😡."
However, other fans noted that Jansen posting a private video from bed wasn't exactly gentlemanly. "Posting a private video of an ex that you took in bed during an intimate moment is absolutely disgusting," one wrote. Another commented, "So we're sl*t shaming now? Come on [that's] old." (Jansen replied, "cry somewhere else.")
Lee has not responded to Jansen's comments.
The former couple has gotten into it before. Back in March 2022, Jansen appeared on Nick Viall's The Viall Files podcast for a "tell-all" interview, where he explained his breakup with Lee — and it involved a looot of criticism. He told Viall about his and Lee's relationship, "[There were] weeks of buildup from us. She'd always pick little things I did wrong and never appreciate anything I did right for her. All the time."
Jansen also laid out his take on some other contentious topics: Lee trying to curate their on-camera conversations, her non-conversation with Shaina Hurley on the beach, her calling him a "disgusting human being" on the anniversary of his father's death, her inability to get over the Hurley situation, and the fact that they nearly reunited four times after the show wrapped.
It was... a lot. And apparently, it might not have been 100% true. On March 30, Lee took to her Instagram Stories to address the episode and Jansen's list of accusations, calling them "blatant" lies. No surprise, there were a few things she wanted to clear up. "Yes, I know about the podcast and am shocked by what was said," she prefaced her note, before diving in on some of the comments she took issue with.
First, Lee denied the accusation that she tried to "script" their conversations. She explained that she "set boundaries with filming — specifically I asked him to not drink alcohol before 'serious' scenes and to not share in-depth details of our intimacy." Apparently, the latter request led to some trouble for the couple (and it's what they fought about in Mexico). Lee also claimed that she never ran from Hurley on the beach, adding that other cast members were there for their conversation, as well.
As for the "disgusting human being" comment, Lee had an explanation for that, too. "I told Shayne he was 'disgusting' Sunday night because he called me to tell me he was going to 'bury me' and 'drag me down with him' on the podcast." (Oof, what a warning!)
As for Jansen's comments on her jealousy over Hurley, Lee said, "A major factor in our breakup last year is I found what I considered to be flirtatious messages between him and other women." According to her, the split had nothing to do with Jansen's connection to Hurley in the pods.
Lastly, Lee said that Jansen's claim about rekindling things "four times" was an exaggeration. "We dated twice after our wedding, not four times... Recently we met up to discuss the possibility of reconciliation but ultimately agreed not to date until he changed some of his behaviors." (Quick note: This disagreement sounds more like a communication issue than anything else. In the podcast, Jansen said they "tried rekindling" four times — not that they successfully dated each time.)
All in all, it sounds like Jansen and Lee still can't really agree on much of anything — even over a year after filming.
This article was originally published on