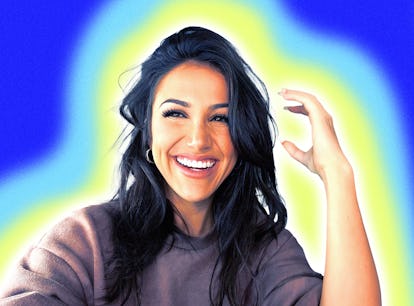 After A Breakup, Kat Stickler Turned To TikTok For Healing
The creator reflects on sharing her dating life with an audience of 10 million.
Lindsay Hattrick/Elite Daily; Courtesy of Kat Stickler
Kat Stickler knows she's Googleable, and it doesn't make dating any easier. "The other day, I Googled myself just to see," Stickler, 28, tells Elite Daily. "I was like, 'Oh, yep. There she is.'" It's true: If you search "Kat TikTok," you'll be directed straight to Stickler.
With 9.9 million TikTok followers and countless viral videos, Sticker's life — including some vulnerable moments surrounding relationships and motherhood — is very much online. "My followers do love when I cry," she says. But her tears aren't what gained her a following.
When the Miami-based content creator first started making TikToks, she focused on couple content with her then-husband, Mike Stickler, and their daughter, Mary-Katherine. At the time, their most viral videos featured the duo playing pranks on each other. But after they announced their separation in March 2021, Stickler took over the account, experimenting with new kinds of material. Now, her videos run the gamut from heartfelt stories about motherhood to character-driven comedy skits.
When it comes to posting on TikTok, "anything is on the table" — even if that makes dating a bit more complicated. As for whether she'd tell someone about her career on a first date, Stickler's weighing the options. "Maybe I'll just lead a double life," she says. "Maybe I'll just never tell them, and they'll just find out scrolling through social media one day."
Below, the Stickler opens up about going from one half of a beloved TikTok couple to an independent creator — plus, what it's like to be single and dating with an audience of almost 10 million.
Elite Daily: You and your ex Mike grew a following for your prank content. How did that start?
Kat Stickler: It all started organically as a joke. I never thought it was going to be this big thing, so it was just fun. And then the more you get into it, the more pressure you feel. We were trying to keep up with trends and stay relevant.
The first video that really went viral was him saying that I could have been nicer. The comments were like, "Oh, my God." People got so mad.
ED: What was the initial response like when you announced your separation in March 2021?
KS: Supportive. I was scared that people wouldn't like the videos if it was just me, but I also knew I could do it because I was the one who came up with the ideas.
Right after the separation, my followers didn't like that I wasn't getting very vulnerable. But I was in shock. It all happened so fast. A lot of people thought it was a joke because we did so many pranks. At the end of our breakup video, they thought I was going to say, "Just kidding." I understood it. They were blindsided, and I was too.
ED: What lessons did you learn from that experience?
KS: I learned to own my decisions. I know that not everyone's going to like them, and I have to be OK with it. Being on TikTok forces you to have more confidence in yourself, because you can't rely on the comments for validation. I try not to get any validation from the positives, so I don't get too hurt by the negatives.
ED: Did you ever consider taking a step back from TikTok after the breakup?
KS: No. Creating and making people laugh is what really brought me fulfillment. So why would I stop doing something that brought me happiness? I actually hung onto it a little more because I was using it as a bit of a crutch for healing.
When you're in an apartment with no furniture and just your baby and an air mattress, it can feel really lonely. Creating made me feel like I had a community beside me. It made me feel safer, if that makes sense. It also showed me that you can turn your pain into power.
ED: How do you decide when to get vulnerable online, and when to keep it private?
KS: Before I post, I think about the people I love and how they would feel. I take that into consideration because I know it's not just about me. But if I feel like voicing it can help other people, especially other women, then I post it. That's the beauty of everything I've been through: It helps me connect with so many different people.
ED: Following your divorce from Mike, what was it like making videos as a single person?
KS: It felt empowering because I was able to get stuff done and I was able to connect with people, even while I was really hurting. I would post a video like, "Yes, I'm crying, but I'm going to keep trying to make content because it makes me feel better. It's how I'm going to be supporting my daughter from now on." And people were really supportive.
ED: You soft launched a different partner, Cam Winter, to your followers in the fall of 2021. What was that like?
KS: It helped that Cam was so shy. And I'd tell him he could hide his head if he wanted. So, people would just see his hand or shoulder. It was a way for me to let my followers know I'm dating again.
There's pressure either way when you're posting online. If you date, people think, "Oh, that's a rebound." If you break up, it's like "Oh, well. That's why it didn't work in her marriage." There's judgment no matter what. So, it's just accepting that it's always going to be like that.
ED: Following your breakup with Cam, you posted on TikTok in August 2022, "Some of you may have noticed I have taken a little bit of a step back from social media the past couple of months. And a lot of you guessed it... but Cam and I have decided to take a break... I am honestly trying to do the best I can." How did it feel to post that?
KS: At that point, it had already been a little bit since we broke up, so I gave myself time to grieve. I did film one video right after it happened, but I never posted it. It was very dramatic. I was like, "This is too much. I'm not putting this online."
But when I posted this update, I felt a little bit of a relief because I had been wanting to tell my followers and explain to a certain extent.
ED: How has your healing process been?
KS: Really good. I know what I want and what I won't accept. I used to be such a people-pleaser, and it would affect how I would date — even little things, like sexually, you want to put them first. Then, all of a sudden, you shift the focus to prioritizing yourself. And it's just way better.
When I post over the next three to four months, you'll understand more. I'm soft launching a little bit. But I'm not sure how much I'm going to share. We'll see.
ED: You've started making some fun, relatable "single friend" content recently. How has it been, sharing that side of your life?
KS: It's so funny to film, and it's really relatable, too. I like shedding light on it and making light of it, because in the moment, being the "single friend" can feel so bad and make you very insecure.
ED: What's it like being single and dating as a creator versus being in a relationship? What's different?
KS: Engagement definitely spikes if I'm in a relationship. But I also know that it can get messy when you share that. I feel that pressure, but I'm definitely not going to let it affect my dating life. And I guess when I'm ready, I'll share it again.
In general, I'm trying to shift my content to characters that I can make up and have control over. That way, my content isn't fluctuating or dependent on another person. I want to see how that goes, and then I'll take it from there.
This interview has been edited and condensed for clarity.