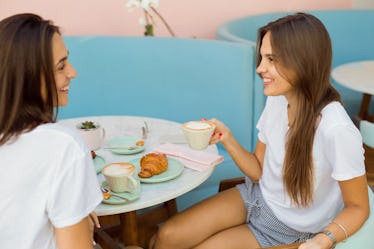 5 Questions About Their Job To Ask On A First Date, So Skip The Small Talk
Figuring out what to talk about (and what not talk about) on a first date can be tricky. Do you ask the harmless, surface-level questions, or do you skip the small talk and go straight to the nitty gritty? Worry not! When you want to know about what your date is passionate about and what their day-to-day is like, these questions about their job to ask on a first date can give you a better understanding of who your date really is without feeling like you're prying.
I can't say I'm one of those people who particularly enjoys small talk. In fact, I dread it and try to avoid it at all costs. Plus, when you're on a date, you only have a limited amount of time to really get to know the person before you go your separate ways and decide if you want to see each other again. Consider trying not to waste too much time talking about the weather or how work was that day, but rather, ask them things that'll really make them think. People who are passionate about what they do usually love talking about it, and what is sexier than that? These five questions to ask your date about their job can give you insight into their lives, what they're passionate about, why they chose their careers, and ultimately, who they are as a person (without bombarding them with questions that sound super serious and daunting).