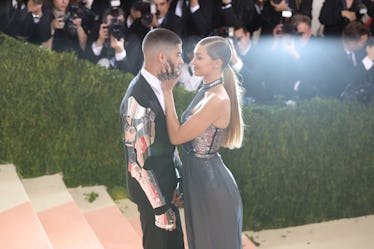 Here's How Zayn Malik & Gigi Hadid's Body Language May Have Predicted Their Breakup
Neilson Barnard/Getty Images Entertainment/Getty Images
ATTENTION, ZAYN AND GIGI FANS: I have some troubling news for you. After two glorious years together spent doing totally normal couple stuff like shooting music videos and taking pictures to grace the cover of Vogue, one of the world's favorite power couples has just called it quits. This may come as a shock to most of us, but according to body language experts, Zayn Malik and Gigi Hadid's body language may have been hinting at trouble in paradise for quite a while now.
But before we get to that, let's talk about Zayn and Gigi's breakup for a second. The rumors of the couple's split started swirling around when The Sun first reported that a source claimed their busy work schedules drew them further apart from each other and ultimately caused them to split.
According to the insider, the breakup was a mutual decision. The unnamed source claimed to The Sun:
They both have respect for each other. It's a mutual decision so no one has completely ruled out a reunion in the future, but for now that's not where their heads are at.
Following that report, things got extra suspicious when fans noticed Zayn had officially stopped following Gigi on Instagram.
Later this afternoon, however, Zayn confirmed the breakup himself via a tweet he posted, which stated:
Gigi and I had an incredibly meaningful, loving and fun relationship and I have a huge amount of respect and adoration for Gigi as a woman and a friend. She has such an incredible soul. I'm grateful to all of our fans for respecting this difficult decision and our privacy at this time, we wish this news could have come from us first. We love you all. xZ
Gigi also confirmed the breakup rumors this afternoon in a heartbreaking tweet:
Breakup statements often seem impersonal because there is really no way to put into words what two people experience together over a few years .. not only in the relationship, but in life in general. I'm forever grateful for the love, time, and life lessons that Z and I shared. I want nothing but the best for him and will continue to support him as a friend that I have immense respect and love for. As for the future, whatever's meant to be will always be. xG
But where did this breakup come from? Was it totally and completely out of the blue, or should we have seen it coming? Let's take a look at some of their photos throughout the years and see what certified body language experts have to say.