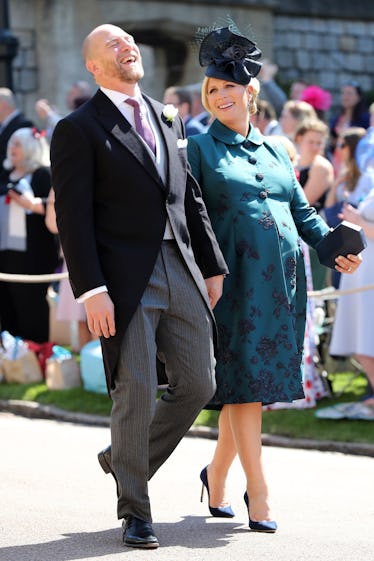 There's Another Royal Baby, So The Buckingham Palace Balcony Might Be Tight Next Year
WPA Pool/Getty Images Entertainment/Getty Images
Hear ye, hear ye, we've got another royal baby on our hands! And before you start jumping to conclusions, no, newlyweds Prince Harry and Meghan Markle, Duke and Duschess of Cambridge, didn't magically wake up to the stork bringing them a baby overnight, so calm down. That's right, Zara Tindall gave birth to another royal baby, meaning that Queen Elizabeth II is now a great-grandmother seven times over. Talk about being #blessed. Tindall, who is the daughter of Princess Anne (Queen Elizabeth's only daughter), welcomed her daughter into the world along with her husband, Mike Tindall, and their older daughter, 4-year-old Mia Grace, on Monday, June 18, because who run the world? That's right, GIRLS.
Details about the baby girl were given on the royal family's website, though her name has yet to be released to the public. They did confirm that the seventh great-grandchild for The Queen was healthy and delivered safely, though, so that's truly all that matters.
In the early morning of Tuesday, June 19, a statement from the royal family was announced at the news of the baby's arrival:
The Queen, The Duke of Edinburgh, The Princess Royal, Captain Mark Phillips and Mike's parents, Mr Philip and Mrs Linda Tindall, have been informed and are delighted with the news. The baby's name will be confirmed in due course.
Tindell's baby is not technically royal. See, Tindell wasn't entitled to royal status by birth because titles can only be passed down to a monarch's grandchildren through sons. The Queen did offer courtesy titles to Princess Anne's children, but she declined. So, Tindell is technically just a commoner like you and me. But, she's still part of the royal family. I mean, her great-grandma is the Queen herself. So this baby is as royal as any of the Queen's other descendants in my completely un-royal opinion.
A new royal baby is incredibly happy news, especially because the couple revealed in November of 2016 that they were expecting, but sadly, just one month later, announced that they had lost the baby.
But in January of 2018, Tindall became pregnant once more, and her pregnancy was confirmed by a Buckingham Palace spokesman who said that the Queen and the Royal Family were "very pleased" to hear the news.
A very-pregnant Tindall even attended her cousin Prince Harry and Meghan Markle's wedding day on May 19, looking absolutely radiant in a green coat with her noticeable baby bump. I mean, just look at her:
Look at how much she is beaming! That's pregnancy goals right here:
And of course, Tindall was not the only royal family member bumpin' along this year: Kate Middleton, the Duchess of Cambridge, and Prince William, Duke of Cambridge, announced the news that they were expecting their third child back in September of 2017. In a royal press release from Kensington Palace, the statement read,
Their Royal Highnesses The Duke and Duchess of Cambridge are very pleased to announce that The Duchess of Cambridge is expecting their third child. The Queen and members of both families are delighted with the news. As with her previous two pregnancies, The Duchess is suffering from Hyperemesis Gravidarum. Her Royal Highness will no longer carry out her planned engagement at the Hornsey Road Children's Centre in London today. The Duchess is being cared for at Kensington Palace.
Of course, Middleton gave birth to her third child, a son, at St. Mary's Hospital in London on Monday, April 23, and in a tweet published on Friday, April 27, Kensington Palace confirmed that Prince William and Kate Middleton named their son Louis Arthur Charles, adding that the baby will be known as His Royal Highness Prince Louis of Cambridge.
So, does this mean that Meghan Markle and Prince Harry might be next in line to start a family? According to royal expert Katie Nicholl, who is the author of Harry: Life, Loss, and Love, Prince Harry wants to start having kids with Meghan STAT. "My sources are saying that Prince Harry, particularly, is very keen to start a family, pretty soon after the royal wedding," Nicholl told Entertainment Tonight, adding, "He's made no secret about wanting children."
So who knows, maybe another royal baby will be in our near future! And if you think Meghan and Harry should hold off on procreating, just know that both the Queen and I won't be hearing any of that.
I'd like all the royal babies, please and thank you.