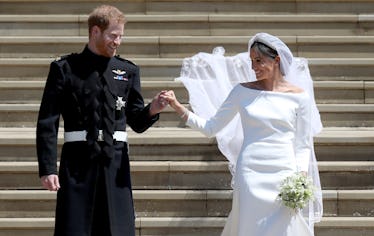 Prince Harry & Meghan Markle's Official Wedding Portraits Are Here & You're Going To Sob
WPA Pool/Getty Images Entertainment/Getty Images
It's been two days since the Duke and Duchess of Sussex tied the knot in what had to be the most beautiful wedding ceremony ever, and I am already going through serious royal nuptial withdrawals. But just when I thought I was finally done bawling over all the incredible romance, three official glorious photos from the day have been released — THREE! — so excuse me while I go pour over each one. That's right, Prince Harry's and Meghan Markle's official wedding portraits are here, you guys! And OMG they couldn't be any more amazing!
Kensington Palace released the three images of Meghan and Harry on Twitter, along with the following statement: "The Duke and Duchess would like to thank everyone who took part in the celebrations of their Wedding. They feel so lucky to have been able to share their day with all those gathered in Windsor and those who watched on television across the UK, Commonwealth, and around the world."
The photographs were taken by photographer Alexi Lubomirski at Windsor Castle, following the carriage procession, and they are EVERYTHING. In the first one, taken in the Green Drawing Room of Windsor Castle, Harry and Meghan stand proudly in the center of their family members, and the young members of their wedding party. Included in the gorgeous image are the Queen, Duke of Edinburgh, Prince of Wales, Duchess of Cornwall, the Duke and Duchess of Cambridge, Meghan's mother Doria Ragland, and all the adorable bridesmaids and pageboys, including Prince George of Cambridge and Princess Charlotte of Cambridge.
The second image is a stunning black-and-white shot of Meghan and Harry alone on the east terrace of Windsor Castle.
And in the third photograph, the Duke and Duchess of Sussex are smiling sweetly and surrounded by all of their bridesmaids and page boys.
Are you crying happy tears yet? Because I am! These photos are stunning and warm and everyone just looks so happy! Check out Prince Charles and Doria — they look so proud! I'm really happy KP decided to share these photos with us. But, can we possibly get some more? PLEASE?!
Meanwhile, it sounds like Lubomirski — who also took the official engagement pictures — has enjoyed every second of capturing the couple. "It's been an incredible honour and privilege to document The Duke and Duchess of Sussex's inspiring journey of love, hope and family; from the engagement photos, all the way through to the official wedding and family portraits on Saturday," he told The Yorkshire Post. "This has been a beautiful chapter in my career and life, that I will happily never forget."
And, of course, thanks to the brilliant place known as the Twitterverse, the memes have already started.
Pretty funny, guys!
The wedding of Prince Harry and Meghan took place at St. George's Chapel at Windsor Castle on May 19. After the ceremony and afternoon lunch, Harry's father, Prince Charles, hosted an evening reception that kicked off at 7 p.m. for close friends and family at Frogmore House, where, according to The Daily Mail, the guest list was cut down from 600 to 200 people.
Check out the stunning Stella McCartney halter gown Meghan changed into for the event:
Complete perfection!
According to the publication, the couple joined guests like Amal and George Clooney, Serena Williams, and Priyanka Chopra for an organic sit-down dinner and ginger and rum cocktails named "When Harry Met Meghan." There were also "naughty" speeches, a surprise fireworks display, a DJ spinning Harry's favorite tracks, and a "drinks of the world" themed bar, plus cotton candy and something called "dirty burgers" as midnight snacks.
Wonder when we'll be getting those official photos!