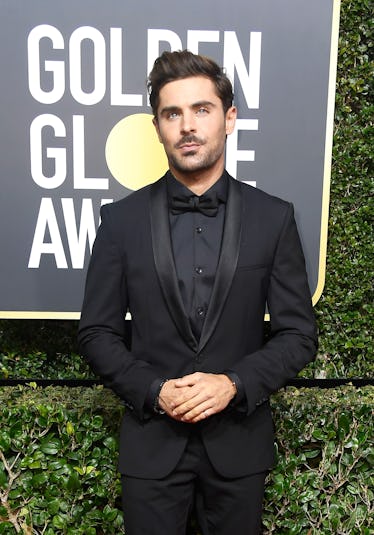 Zac Efron's Net Worth Will Make You Realize How Far Troy Bolton Has Come
Frazer Harrison/Getty Images Entertainment/Getty Images
The thing I love most about Zac Efron are his abs. Just kidding! The thing I really love most about Zac Efron are his abs. Dammit, I've done it again. Every time I try to talk about how talented of an actor he is, the only thing that comes out of my mouth is abs, abs, abs. And you can't even blame me, because the man is pure fire. But in all seriousness, Zac Efron has been in the acting game for over a decade, and shows no signs of slowing down, and his bank account definitely proves it. Zac Efron's net worth will make your jaw drop almost more than seeing him shirtless does.
According to Celebrity Net Worth, Zac Efron has a net worth of $24 million. Yep, gone are the days when Troy Bolton was just a singing, dancing, teenage heartthrob. Now, he's a handsome man raking in some serious dough, landing himself in major roles like Neighbors, The Disaster Artist, and, most recently, the re-make of Baywatch. But his success did start on the Disney Channel's High School Musical, which "placed Zac on Hollywood's radar and on the Billboard charts," and was "the most-searched-for celebrity on IMDB.com" in 2007. I'd insert yet another joke about his abs, but I feel like it might be overkill.
Instead, how about I just give you some imagery:
Are you thirsty? Because I'm really thirsty.
Efron also admits that, despite having an impeccable jaw line and millions of dollars in the bank, growing up in the public eye was very difficult, and it was hard to live up to that responsibility at times. In 2014, he told the Hollywood Reporter,
When you have success young, and you accept the good things, you have to accept all of it. You have to accept the moments of glory but also a great responsibility. And that responsibility, to some degree, involves being a role model. At the same time, I'm a human being, and I've made a lot of mistakes. I've learned from each one ... I'm grateful for every bit of that early success. It was hands-down the most honest, carefree, passionate experience of my life. There were no expectations.
His life in the spotlight became so overwhelming, though, that in 2013, he went to rehab for an addiction to drugs and alcohol, but has absolutely no regrets about his past or his decision to get help. He told The Daily Telegraph, "I've done a lot of things that I look back on and go 'Sheesh, are you kidding, what were you thinking?' It is weird to say because I am also happy that I did all of those things because I am here before you today able to proclaim that this is me and I am very proud of who I am."
Oh believe me, Zac, we're very proud of who you are, too. You and that glistening, rock-hard bod of yours.
God, it's so hot in here. Can we get some AC on in this place, please?
While we don't know for sure whether or not this dreamboat of a man is actually single or not (he and Baywatch co-star Alexandra Daddario have been rumored to be a thing, because hello, look at the two of them), at least we all can still dream of him and his glorious physique... or just stalk him on Instagram, like I do, where you can see him staring wistfully into the infinite abyss:
Or practicing his inner yogi on the beach:
Or just generally looking fine as all hell:
Here's to you, Zac Efron. We wish you, your chiseled body, and your endless checkbook everlasting happiness.