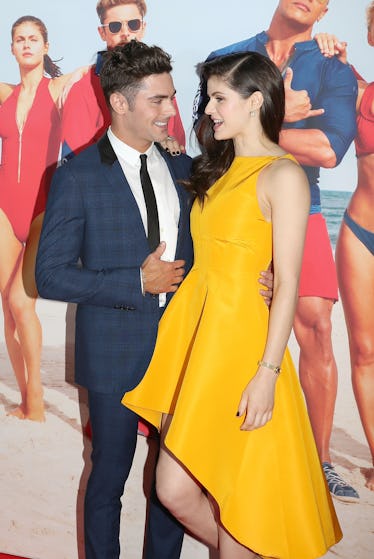 Zac Efron & Alexandra Daddario's Body Language Says So Much About Their Connection
Cole Bennetts/Getty Images Entertainment/Getty Images
It rarely comes as a huge surprise when celebrity co-stars cozy up after working on a project together, so it's definitely not a shock that rumors of a Zac Efron and Alexandra Daddario romance have been flying since the Baywatch premiere last summer. While a relationship between the two has yet to be officially confirmed, Zac Efron & Alexandra Daddario's body language suggests that there could definitely be a romantic connection.
While Daddario did tell E! News last May that her and Efron were just "very good friends," it's hard not to wonder if the two have grown closer over the past several months. If Instagram counts for anything — and let's be real, it totally does — it shouldn't be overlooked that Efron made a sweet birthday post for Daddario in which he bestows upon her the coveted title of the "most rare Pokémon ever created." And I mean, that's not a phrase I would imagine Efron (or anyone) throws around lightly.
I spoke with body language expert Patti Wood to see if a relationship between Efron and Daddario is likely, or if our over-active imaginations are just playing very cruel and convincing tricks on us.