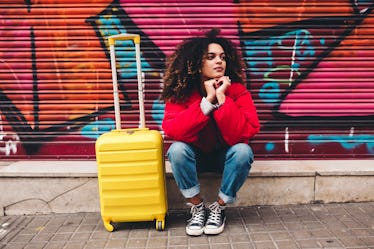 Your Weekly Horoscope Is Here & Your Week Is Looking Pretty Impatient
This week marks the middle of Mercury's retrograde, making it a good time to take a look at the astrology that supports us throughout this challenging transit. Your April 2, 2018, weekly horoscope might not feel like a very loving and supportive one, but it is a powerful week. The challenges that you face this week will shine a light on exactly what you need to focus on in order to move through challenges that you're going through now.
There are specific qualities we all need to cultivate in ourselves if we are going to move forward in the world. This week is going to be about laying a foundation so that whatever we build going forward — whether it is confidence, health, or a career — is unshakeable. The steps we take this week, however small, will be incredibly powerful in the long run.
As Saturn (planet of discipline), Mars (planet of action), and Mercury (planet of communication) square off against one another, the only thing we can control are the grounded, measured decisions we make to protect ourselves from impulsivity. So stay present, readers. This will all be over by next week.
Aries
You may be reeling from the shakeup of Friday's full moon in Libra, which sent ripples through your seventh house of partnerships; even if you weren't affected personally, you probably noticed the chaos around you. The week begins with Mars, your ruling planet, conjunct Saturn, the planet of discipline. You might want to act on whatever came to light over the full moon, but it's best to wait right now. Try taking baby steps instead of giant leaps.
Taurus
For a stubborn bull like yourself, Taurus, you may feel challenged by the conjunction between Mars and Saturn on Monday. In the battle between impulse and discipline, discipline always wins out. Remember that throughout this week, when you might feel like your well-laid plans are put on hold. That said, Mercury in retrograde will support any spiritual and inner work you do on yourself right now, so cultivate patience.
Gemini
Your ruling planet, Mercury, is right smack in the middle of the retrograde in your eleventh house of personal goals and group associations. If you've been involved in organizing a get together or have been trying to get your name in the mix with an organization that speaks to you, this week you'll find a lot of road blocks. The best approach is to make whatever progress you can, however circumstances will allow it.
Cancer
It seems like you might be dealing with some confusion at work as Mercury retrogrades through your career sector. On Wednesday, you could be stuck between a rock and a hard place as some domineering person or institution gets in the way of a goal you've had or a deadline you've been trying to make. If there's a chance of pushing said goal until after Mercury retrograde, do that, but if not, take deep breaths and keep pushing.
Leo
For a sign that loves the spotlight, this is a week that you'd benefit from retreating into solitude for a bit. Mercury is still in retrograde, and a lot of the astrology this week is challenging as Mars, Mercury, and Saturn all square off against one other in your ninth house of travel and philosophy. While you might feel the impulse to get out in the world looking for the answers, you might find them faster if you search within yourself.
Virgo
You might feel as if you have a tough time communicating with others in your intimate circle, especially those with whom you've merged resources. If money is owed to you, or you are feeling pressured to enter into a business agreement that you, for whatever reason, aren't comfortable with, now is the time to wait. There's no sense in responding to pressure from others, or by trying to apply pressure when there's nothing you can do. Wait until next week, and in the meantime, remain tolerant.
Libra
After last week's full moon in your first house, you may feel the air clear a bit. Clarity will return to you on Sunday, as will your ability to speak on behalf of yourself. Removing things from your life that stand in the way of your own happiness might be difficult, but in the long term, it will be worth it. What's important for you right now isn't going out and acquiring what you want, but first understanding exactly what's getting in the way of you doing that. Remove the blocks, break down the wall, then move forward.
Scorpio
You've been challenged since the new moon in Pisces to put your ideas out into the world, to integrate your deepest, heartfelt philosophy into your actions. This week will present a challenge to you in that you might come up against some outside resistance. That doesn't mean you need to give up. The word "no" doesn't mean you should give up. It means "not right now, not this way." So you might retreat for a moment, strategize, and find a new way to get exactly what you want.
Sagittarius
The full moon was in your eleventh house, representing some challenge in your place within your social group. It may have left you feeling like you lost when it comes to the people you surround yourself with, but you'll come out of it with some clarity about who has your back and who doesn't. This week your focus is on your livelihood, on creating more abundance in the area of your possessions or resources. Pay attention to the specifics, and leave nothing out as you lay out your long-term financial plans.
Capricorn
Your private life and your inner needs will be on your mind this week as Mars and Saturn come together in your first house and fourth house. You may feel as though you're being repressed by outside forces outside, perhaps on a home project or in your emotional life somehow, but your ruling planet Saturn will be there guiding you to remain stable and grounded through any challenges to your home and family life.
Aquarius
You've been focused heavily on your long-term dreams and plans lately, and with Saturn and Mars in your twelfth house of secrets, you might feel like you're beginning to see the sneaky ways in which you sabotage yourself. You've got incredible reserves of creative energy and a well to draw from, but there may be some blockage that gets in the way. Don't be afraid of the secrets that your own subconscious is pointing you toward. That's where you'll find the treasure that opens the gates to your future plans.
Pisces
The full moon was in your eighth house of shared resources this weekend, squaring Saturn and Mars in your eleventh house, so be sure you go over all your taxes even more carefully than you ordinarily do. Then, through the week, your focus will be on your goals and the people who support them as Mars and Saturn square off in your eleventh house. Stay open to lessons that unfold about your social circle and the ways they either support or stand in the way of your personal progress in regard to your goals.
This article was originally published on