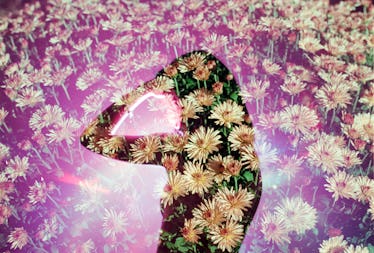 Your Monthly Horoscope Is Here & You're In For An Adventure
April has finally arrived! Hopefully you've started seeing all the vibrant greens and colorful flowers of spring sprouting all around you. March is often a long, slow-moving month full of gray weather and seasonal confusion but April, we can usually rely on. At least for a solid dose of revitalizing sunshine. However, if you were hoping the planets would finally give us a month of rest, think again. Your monthly April 2018 horoscope might pack an even bigger astrological punch than last month's.
If Mercury retrograde has been absorbing your energy all the way down to the very last drop, mark Apr. 15 on your calendar because that's officially when the communication crisis will finally come to an end. Before you start calling it a day, Apr. 15 also gifts us with a new moon in Aries, which guarantees that the chaos is far from over. Is it ever?
We're only bouncing from one transformative astrological phenomenon to another. On Apr. 17, Saturn will be going into retrograde until Sep. 6. All the energy you've put out into the world will come back to you with karmic force. Start spreading positivity and kindness now if you haven't been! On Apr. 22, Pluto will also be going into retrograde for the next five months. This will expose all the difficulties you must overcome in order to become the person you're meant to be.
While all of this might make you want to crawl under a rock and hide, the sun transitioning into Taurus on Apr. 20 will instill you with enough strength to survive anything. Venus will also move into Gemini on Apr. 24, lightening things up with enough charm and cleverness to keep us all in good spirits. Believe it or not, many signs will feel filled to the brim with magic.
Aries
This month will be filled with satisfaction, Aries. You'll feel like indulging in beauty, art, excitement, and wisdom. You'll eat every opportunity right up, feeling an insatiable hunger to learn more, to become more experienced. This is only amplified by the sun moving into your second house of finances on Apr. 20. There could be an epic pay day on the horizon, allowing you to reap the rewards of your hard work.
Taurus
The sun moves into your sign on Apr. 20, replenishing you from inside-out. You'll feel a solid connection to the earth beneath you, like you're right where you're meant to be, like there's a higher power looking out for you. This will shine through your every move, Taurus. People will glisten and grow in your presence, attracting everyone like bees to your bloom.
Gemini
You'll feel propelled to do what you want to do this month, not what everyone else wants you to do. Embrace your most intrinsic needs, Gemini. You try so hard to please everyone around you but your happiness depends on no opinion but your own. With Venus moving into your sign on Apr. 24, you'll feel even more in touch with your whimsical spirit than usual.
Cancer
While things are looking up for you career-wise and financially, this month may make a dramatic impact on your love life. Mars is in Capricorn and it's been bending your seventh house of partnerships until it feels like it might break altogether. You may engage in some stressful conflicts with your partner. If you're single, you might feel attracted to people who are completely wrong for you. Stay mindful of these tendencies, Cancer.
Leo
Venus is emanating her glow in your 10th house of social status this month, Leo. This will do wonders for your career and social life, making you feel more popular than ever. Your charm and wit will amuse everyone you meet, taking you to new and beautiful places. You'll feel like your best self, like there's nothing holding you back. Make sure you use your positive aura to make a difference.
Virgo
Until Apr. 24, planets are all holding position in the western sector of your chart, which indicates that you'll find your greatest success in the hearts of others. You'll feel swept by the need to connect with people on a deeper level, to leave your comfort zone behind and seek out possibility. Even if your social life may be difficult at times, undergoing the stress will help you grow in gratifying ways, Virgo.
Libra
Pluto is your financial planet and its transition into retrograde on Apr. 22 will force you to reconsider the way you've been conducting business. You might feel like you haven't been working hard enough, like you haven't been working towards your dreams. Distractions that have been inhibiting your success will be made apparent to you. Use this time to rethink your plans, Libra.
Scorpio
Your ruling planet is Pluto and it moves into retrograde on Apr. 22, making everything feel more challenging than usual, Scorpio. You might feel self-conscious and unsure of yourself. Finding reasons to be proud of the person you've become might prove difficult. You can find solace in romance right now, as Venus is making waves in your seventh house of partnerships, infusing your love life with luck.
Sagittarius
Mercury is your love planet, Sagittarius, and its retrograde until it goes direct on Apr. 15 will turn the heat down. Although it's also infusing your fifth house of pleasure, you might feel like finding common ground with your partner is harder than usual. If you're single, you might find potential partners boring or infuriating to you. You may just feel like putting your love life on the back-burner for now and focusing on yourself.
Capricorn
Mars spends this month in your sign, Capricorn. This will infuse you with turbo-speed and you might feel more aggressive than usual, even more willing to compete with others. Keep your fire in check as you don't want to burn anything important down. If you implement this vitality in more nuanced and strategic ways, it will serve you well.
Aquarius
Your fourth house of home and family is especially potent this month, Aquarius. You'll feel like connecting with your roots, spending time with your loved ones, reminiscing on old memories, and infusing your bonds with strength. This is a necessary period of rest but it's also motivating you to place your energy where it matters most.
Pisces
Mercury is your family planet, Pisces. It's also spending its retrograde in your second house of money. You may feel like taking care of your loved ones is more difficult than usual and the fact that you may not be bringing enough bread to the table will harm your spirits. However, your family may also be the source of your financial regeneration. Trust the advice of family members and elders. Consider the opportunities they may have for you.