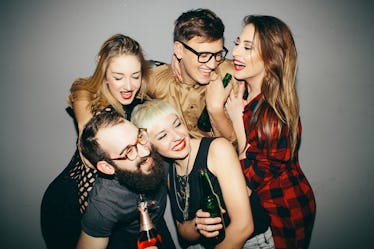 Your March Horoscope Is Full Of Ups & Downs, But Here's Why It Gets Better
February was a soft and romantic month full of planets transiting through Pisces. That daydream, whether you relished it with all your heart or you couldn't wait to wake up from it, is coming to an end with the arrival of March. This month, the astrological forecast indicates that harsh winds will be tossing you in all directions. In the eye of the storm, you'll probably be struggling to focus clearly, to grab onto something. Your March 2018 horoscope is all about the emotional whiplash that might follow, but don't worry; things are about to get interesting.
On Mar. 1, we'll be forced to start taking things more seriously with a full moon in Virgo. Mercury and Venus will be entering fiery and ruthless Aries on Mar. 6, along with the Sun on Mar. 20, making our love lives much more turbulent and exciting. On Mar. 17, Mars will also be leaving adventurous Sagittarius behind for grounded, hard-working pastures in Capricorn.
What you really need to be prepared for this month is Jupiter retrograde beginning on Mar. 8 and Mercury retrograde on Mar. 22. If you know anything about retrogrades, you'd know they're considered "learning periods." If you know anything about learning, you'd know that it's not really possible without a solid dose of pain and frustration as we shed our former perspectives. Hey, whoever said growth was easy?
While there'll be plenty of stress and confusion to go around, there will also be moments of pure ecstasy. That's just how Aries season rolls. Believe it or not, many signs will actually thrive under this blustering weather:
Aries
With March rolling up to crown your sign queen, this month is shaping up to be an exciting one. Venus enters Aries on Mar. 6, lighting up your first house of the self. This refines your image, following your every move with a superstar spotlight. People are attracted to you, Aries. People want to know you. This will bring wonders to your love life and career without you even having to try.
Taurus
Your spiritual side will be experience upheaval and renewal this month. When Aries season begins, your psychic 12th house will be infused with strength. However, it also happens at the same time as Mercury retrograde, making this a period where your spirit will have to move forward, no matter how hard it's clinging to memories of the past. I know you don't like change, Taurus, so make sure you stick to a grounding routine to help ease the transition.
Gemini
Both Jupiter and Mercury retrogrades this month will take your love life and shake it like a soda can until it's ready to explode. You might not be sure what you want from your relationships. This push and pull of your emotions will likely cause you to react with extreme frustration, making you do things you might regret. However, airing out your concerns is exactly what your relationships need in the long run.
Cancer
The Sun enters Aries on Mar. 20 and it lights up your 10th house of career, guiding you to concentrate all your energy on work. You're not normally this ambitious and this shift in your values might feel uncomfortable. However, it will do you so much personal growth. You'll be succeeding in all areas and motivated to go the extra mile in your trade. Don't let this energy go to waste, Cancer.
Leo
Your ninth house of adventure and travel will be powered up by the Sun on Mar. 20, making you roar like the Leo you are. This month should be one filled with fun and excitement. You'll be motivated to try new things, to meet new people. Your social circles will grow exponentially, as well as your experiences. The challenges you may face are challenges you like having. Take advantage of the astrological weather and try something game-changing.
Virgo
The planets in your chart are shaping up to provide you with a prosperous month, both in love and in your career. You'll feel pulled to make more money, in new and intriguing ventures. The Virgo full moon will help you start this month off with laser-sharp focus, giving you the push you need. Neptune's effect on your horoscope also impels you to seek out artistic and spiritual people, which will revitalize your love life in gratifying ways.
Libra
Mars shifts into Capricorn on Mar. 17, and this will derail your 4th house of home and family. This will likely make you feel uncomfortable in your own skin, making every other aspect of life more complicated. As long as you remain patient and do the best you can, the obstacles will come in easy waves. Mars in your fourth house shines a light on aspects of your home life that no longer serve you. The revelations might be difficult to swallow, Libra.
Scorpio
Your finances will be disturbed by this Jupiter retrograde, Scorpio. You might be used to money coming and going with ease but this retrograde will impel you to pay closer attention to your means of income. You will have to learn newer, more clever ways of making money but don't worry. This knowledge will make you a more self-sufficient person in the long run.
Sagittarius
February was tough, Sagittarius. Good news is, March will be awesome! On Mar. 20, your fifth house of pleasure will be all lit up, surrounding you with a whimsical period of fun and exploration. You'll eat all this positive energy right up. It makes you feel like your dazzling Sagittarius self again. It also infuses your love life with some much needed excitement, making dating a more empowering prospect.
Capricorn
Mars enters your sign on Mar. 17, powering up your fourth house of home and family. All your hard-working, focused energy will be guided to personal matters. You'll feel motivated to spend time with your loved ones, to uplift them and be of service to them in any way you can. This period will strengthen your bonds for the future to come, Capricorn.
Aquarius
Your love life and career are greatly intertwined this month, Aquarius. Your third house of communication will be all lit up and with Mars in Capricorn, it will infuse areas of your work life. You're likely to make some great friends at work and you just might meet a new romantic prospect while hustling. Keep moving and try not to rest for too long. You might miss a great opportunity.
Pisces
You'll be pushed to take care of yourself before others this month, Pisces. I know you're usually a bit of a martyr, selflessly doing whatever you can to help your loved ones. This need to concentrate on yourself might make you feel guilty, Pisces, but even you need a little self care. Without it, how can you truly take care of others? Spend some time doing exactly what it is you want to do, whatever that may be.