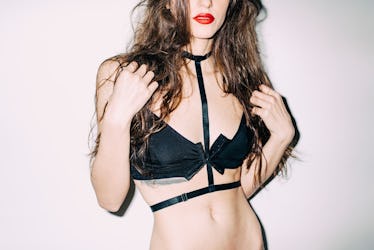 Your Scorpio Season 2018 Sex Horoscope Is Here & It's A Mood
Welcome to the astrological season with the most shade, sex, and how can we forget, the worst reputation. Is that you, Scorpio? Ah, there you are. The oversexed nocturnal soul stealer of the zodiac. Speaking of oversexed, your Scorpio season 2018 sex horoscope is here, and well, all I can say is, the intensity is through the roof. Imagine, Mercury, Venus, Jupiter, and the sun, are all in smoldering Scorpio, hence the shady vibes, and the heavy atmosphere. Oh, and lord knows I'm not judging my Scorpios, because I f*cking love you guys, but the truth of the matter is, your energy spooks people out.
You, however, are used to the Twilight noir vibes, and heavy mood. It's almost like a sweet melancholy, you know? Interestingly enough, a Scorpio woman once told me that her sadness was sort of like a sweet melancholy. It's like she didn't mind feeling sad, it was almost comforting as strange as that may sound. We would run to check and see where the moon was whenever we were feeling down, and naturally, we would fear the moon in Scorpio, as it would always come with energy from the underworld. However, like I said, it's a different type of energy, especially for someone who doesn't have water or Scorpio energy in their birth chart.
Anyways, enough is enough. Let's talk about sex. These are your Scorpio season sex scopes:
Aries
Intimacy and personal power are top of mind for you these days, Aries babe. The cosmos are conjugating in your eighth house of sex, and you're looking for the right person to merge with.
Taurus
You're head over heels obsessed with your partner these days, and Scorpio season simply amped things up in the bedroom. Single bulls could start a passionate new relationship, but be careful with the jealous spells.
Gemini
Working hard or hardly working? The cosmos are huddled up in your practical sixth house of work and daily routine, spicing things up a bit. New work crush? Yes, please.
Cancer
Spice up your life, Cancer. Then again, the cosmos are pretty much doing that for you as we speak. With the sun lighting up your flirtatious fifth house of fun, romance, and creative expression, you're on FIRE.
Leo
Playing mommy and daddy, Leo? The planets are traveling through your domestic fourth house of home, and you're getting "RANDY" at the thought of building something solid with your lover.
Virgo
You're so sassy, Virgo. Although, that is an understatement during Scorpio season. Your words are razor sharp, and your thoughts are at 100 mph. So, stop day dreaming about your lover, and get with it already.
Libra
You're feeling yourself, Libra, and you know what they say, you are what you think you are, right? Well you are a smoldering temptress this season, and your ruling planet slides back into your sign just in time for Halloween.
Scorpio
Come hither, Scorpio. Tis your birthday season, and you're slaying the universe with your over-the-top sex appeal. The planets are dancing the tango over your first house of self, and you're feeling as sassy as ever.
Sagittarius
You're feeling extra mystical these days, Sagittarius. With the planets traveling through your magical twelfth house of the universal realm, you're dreaming and astral projecting into your lovers' bedroom. Incubus much?
Capricorn
Friends with benefits? The planets are frolicking through your humanitarian-like eleventh house of rebellion, friendships, and extended network. You're crushing, and you're not holding back.
Aquarius
You've got a big reputation, Aquarius. The cosmos are meeting up in your ambitious tenth house of career, and destiny in the world this season, and I might have said this before, but don't sh*t where you eat. Oh, and it's going to be hard not to, so hang in there.
Pisces
You're feeling adventurous, Pisces. If you were a lover of nature and the outdoors before, let's just say, you might consider taking your hobbies to the next level. Foreign lovers included.