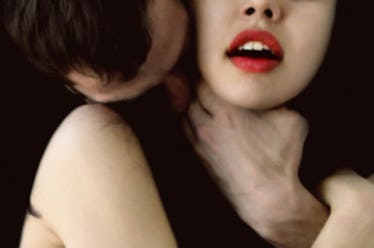 Your Halloween Sex Horoscope Reveals How You Can Be Whoever You Want To Be
As Shakespeare would say, "Double, double toil and trouble; fire burn and cauldron bubble!" All Hallows' Eve is around the corner, and we've got the latest on everything going on with the cosmos. Are you ready for the spookiest night of the year? Your Halloween 2018 sex horoscope is here, and the possibilities are endless. Why? Well, for starters, Venus, planet of love, values, and relationships, will make an opposition to electric Uranus, planet of freedom and rebellion, sparking some unexpected love rendezvous and sultry attractions. I mean, have you ever fallen in love on Halloween night? All I can say is, expect the unexpected. Bow chicka wow wow.
The moon will be in flamboyant Leo on Halloween night, and well, more reason to party, right? Imagine, Leo loves being center of attention, as its energy is playful, passionate, and extravagant AF. However, that's not all; Mercury, planet of communication and thought process, leaves mysterious Scorpio, and slides into Sagittarius, who just so happens to be larger-than-life, if you know what I mean. Put it this way: Sagittarius is ruled by lucky Jupiter, planet of abundance and expansion. So, if we felt shady and secretive during Mercury in Scorpio, our words and thoughts are about to turn up with Mercury in Sagittarius. Y'all ready for this?
That being said, here go your Halloween sex horoscopes:
Aries: Your Sex Appeal Is Through The Roof
You're on fire, but then again what's new? With the moon in your flirty fifth house of fun, passion, and romance, you're sparkling with charisma. The sun is also traveling through your sexy eighth house, which means you're on the hunt for something serious.
Taurus: You're Craving A Sexy Night In
Netflix and chill? You're ready to get lost under the covers, especially since the moon is traveling through your cozy fourth house of home, and family. Not in the mood for Halloween this year? Not to worry, Taurus. The party will most likely come to you.
Gemini: You're Making The First Move
Everyone knows you've got the gift of gab, but what they don't know is, you're a completely different person when your evil twin takes over. It's sexy time, Gemini, and you're in the mood to talk dirty.
Cancer: You're Sexy And You Know It
You know what you want, Cancer. Plus, with the moon traveling through your second house of values and self worth, you're owning your sex appeal, and indulging in your pleasure.
Leo: You're Getting Hit On Left And Right
The spotlight is on you, as per usual, Leo babe. The moon is in your sign, and you're ready to party. Now, if you're the only one in your group of friends feeling festive, not to worry. You're not going home alone.
Virgo: You're Secretly Attracted To Someone
Shady much? With the moon traveling through your secretive 12th house of closure, karma, and dreams, you're in the mood for something out-of-this-world, and you're not going to tell a soul.
Libra: Friends With Benefits?
The moon is traveling through your 11th house of groups and friendships, and you're craving something unconventional. You can have anyone you want, Libra. Halloween is about embracing your inner rebel.
Scorpio: You're Making A Sexy Entrance
With the moon in your 10th house of fame and destiny in the world, you're overflowing with charisma, and sex appeal. Granted, this is your birthday season, so why not make it a night to remember?
Sagittarius: You're Feeling Adventurous
You're always the life of the party, but this year, you're feeling a bit different. In fact, you may or may not hitch a ride to go meet your sexy pen pal in person.
Capricorn: You're Gladly Having Hate Sex
Take it easy, Capricorn. The moon is in your shady eighth house of sex, intimacy, and transformation, sparking some unexpected urges between you and your toxic ex. Leave the past in the past.
Aquarius: You're Too Sexy To Be Alone
Twin flame? The moon in Leo lights up your partnership zone, and you're extra charming, not to mention in the mood for some good company. Drinks at your place afterward?
Pisces: Good Hygiene Will Turn You On
With the sun traveling through your expansive ninth house of travel, you're up for spontaneous adventurous and risk-taking activities. However, make sure your travel buddy is nice and tidy. The moon will be in your health-conscious sixth house, too.